By Megan Erbacher
The Message assistant editor
As Charlotte Mosbey rode to school with her dad one morning weeks ago, she saw a homeless man sleeping on the stairs of a building. Mosbey, 6, desperately wanted to help; but she wasn't sure how.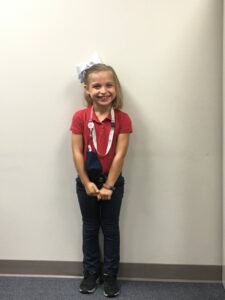 Once the Holy Redeemer School first-grader arrived at school, Mosbey was still upset and concerned for the man, so she shared what she saw with Principal Andrea Dickel and her teacher, Lisa McCall.
"I wanted to basically get out of the car and give him some money," Mosbey said. "I told Mrs. McCall that I wanted to help out. I felt sad."
That particular week, McCall said kids were learning in religion class about all the gifts God has given them. After some discussion, McCall and fellow teacher Preston Altstadt realized the situation could be turned into a service project for the first-grade students and their seventh-grade buddies as a way to help kids show compassion for people who don't have what they have.
Altstadt, who teaches middle-school social studies and is the seventh-grade homeroom teacher, said the buddy system is where seventh-graders serve as mentors to first-graders. Since the COVID-19 outbreak has prevented the first-graders and their seventh-grade buddies from sitting together at Mass and going on a fall field trip together, following Mosbey's lead, it was decided students would make Blessing Bags for those in need in the community. 
Altstadt said many times people want to give, but they don't know how; so this simple act of making Blessing Bags was a great opportunity for students to give to others.
"Whenever students lead it, we get so much more enjoyment out of it when the students come up with the ideas," he said. "The kids really took it and ran with it. One of the things we stand for is small acts of kindness."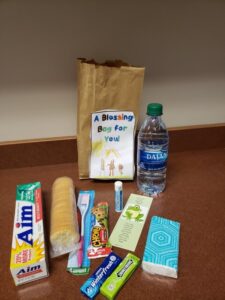 So, students collected and donated items that included bottled water, toothpaste, toothbrushes, mouth wash, granola bars, crackers, chips, gum, mints, chapstick and Kleenex.
McCall said the support continued to grow as parents emailed to ask how they could help.
Once items were collected, the two grades gathered in the cafeteria – wearing masks and social-distancing – to assemble the Blessing Bags. The bags, filled with the items students collected, are kept in the students' family vehicles until they see someone in need; they can give a Blessing Bag to that person with the guidance of an adult. Their goal is to make a difference for someone.
Between 40 and 50 bags were made. Mosbey said the first-graders decorated the bags with the words: "A Blessing Bag for You" and other happy images. On her two bags, she drew emoji faces with hearts, rainbows, a sky, sun and grass; things that she said make her happy.
"I was super excited," Mosbey said of making the Blessing Bags. "I learned I could give something to someone and it makes them feel very, very happy and it also makes you very, very happy." 
Mosbey said she felt joyful and like a bucket-filler, a term they use in her classroom.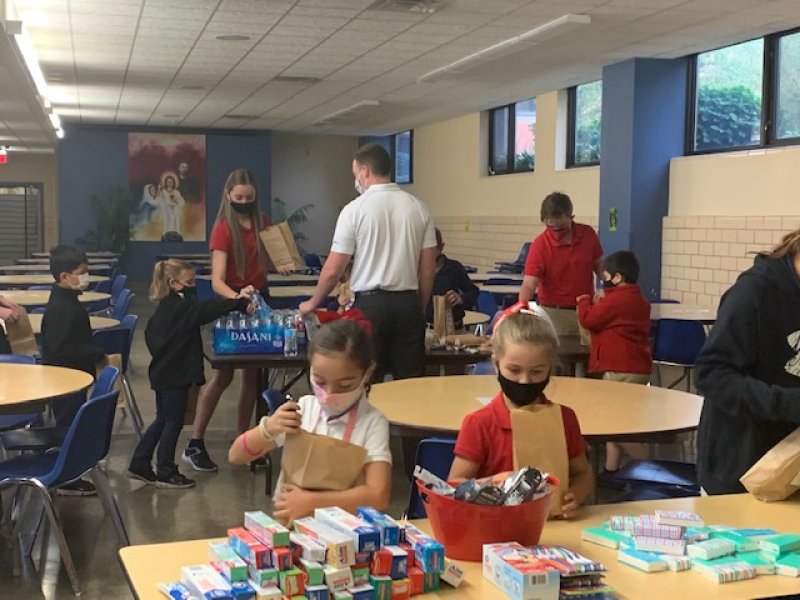 "We say that bucket-fillers are nice people and help others in a respectful, kind and joyful way," she explained.
One student told McCall that her mom helped give the Blessing Bag to someone on the side of the road, and the lady who received it said, 'Thank you, God.' While another student said he gave his Blessing Bag to a veteran.
Mosbey hasn't had a chance to gift her Blessing Bags to anyone yet, but both bags are in her family's vehicle waiting to find new homes.
McCall said it was fun to watch the kids so inspired to help others. She hopes students remember that they can shine their light and do small acts of kindness for others. She thinks this will be a service project Holy Redeemer continues through the years.
"It was definitely the best service project we've ever done because it was student-led," she said. "I have no doubt that the kids will never forget it. They've been so affected by it in a positive way, and they truly became the hands and feet of Jesus and saw how to do that."