By Megan Erbacher
The Message assistant editor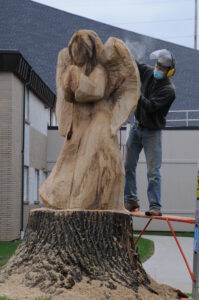 When Holy Rosary School students, teachers and staff returned to school after Spring Break, they had a new greeter as they walked into the building.
Father Bernie Etienne, pastor of Holy Rosary Parish and Diocesan Vicar General, recalled the "stately old poplar tree that was a shade-providing bridge between the old Totten Hall Preschool (former convent) and the elementary school." Unfortunately, he said, demolition and construction of a new preschool took a toll on the poplar tree, and it died last year. 
"We preserved the trunk with hopes that we might honor the tree's presence with new life," Father Bernie said. "This past week, much progress was made on a chainsaw carving of a guardian angel. She is perfectly positioned to greet the children each morning as they arrive for school. I'm really happy with this project."
Eric Ridenour, a local chainsaw carver, is transforming the old poplar trunk into an angel, which will be about nine feet tall, including the stump she stands on.
Joe Holtz, Holy Rosary parish manager, was introduced to Ridenour by Gary Mueller, a Holy Rosary parishioner. The men discussed ideas, and Holtz showed Ridenour some photos of angels. Ridenour intentionally just glanced at them so he wouldn't be copying someone else's work. Then, he made a small clay model that was refined into what is being carved into the trunk.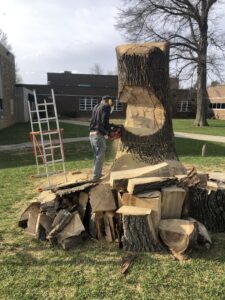 Ridenour, a teacher at Montessori Academy of Evansville for about 35 years, said he started chainsaw carving as a hobby around eight years ago. In his first four years of carving, he specialized in bears; and four years ago, he branched out into other animals. Holy Rosary's angel is his first anthropomorphic, or human-like, chainsaw carving.
"I think it's going all right," he said. "At least people don't drive up and say, that's a nice bear you're carving. So I know something is going OK … I think it's being pretty well-received so far."
Holtz said the tree could've been harvested and cut into lumber, produced into a table or bench, but over time people would've forgotten where it came from.
"Who knew that there was an angel in that tree looking over us all this time," Holtz said. "It seems a fitting reminder. … I hope it is a reminder that there are angels watching over us always."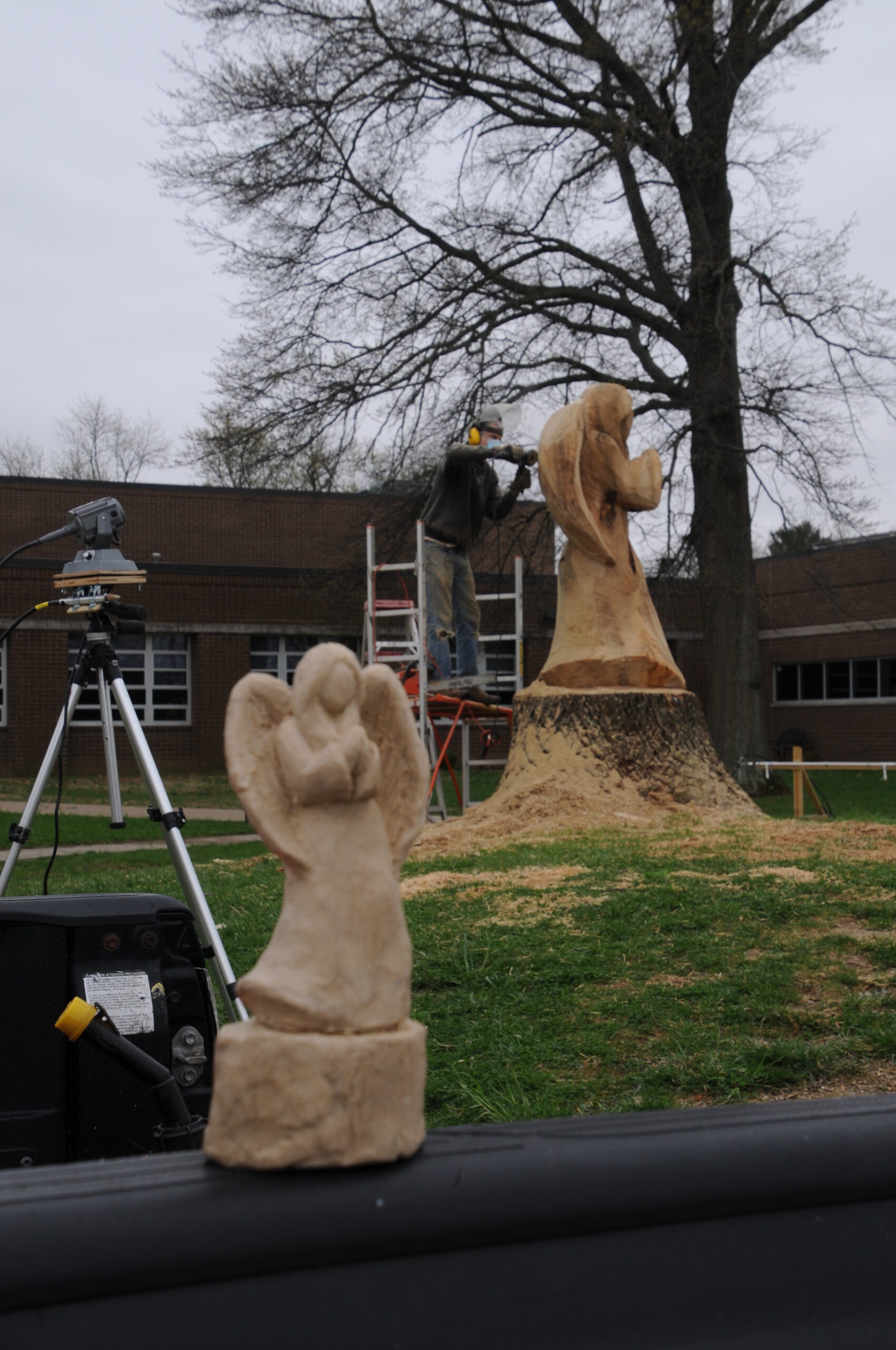 As of March 26, Ridenour estimated he had spent 25-30 hours carving the angel, not including the time he spent making the clay model. On March 29, the angel was nearly complete, aside from some finishing details.
"The students and faculty had no idea this was happening, and we had a great reception at school drop-off Monday morning," Father Bernie said. "Staff, parents and students seemed delighted with the new addition to our campus."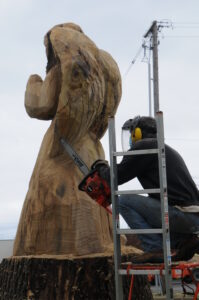 Holtz said they will preserve the angel with a sealant, and Ridenour said he might put some relief cuts in the wood.
"Poplar, luckily, is not famous for being prone to splitting, but you just can't tell," Ridenour said. "The tree will do what it's going to do."
Father Bernie expressed his gratitude to the Holy Rosary Men's Club who "generously underwrote the cost of the work of the carver."
Holtz noted that it seemed fitting he answered questions about the new angel on the Solemnity of the Annunciation of the Lord – when the Angel Gabriel appeared before Mary. He believes they were led to the angel figure.
"God sends Angels to tell good news," Holtz said. "He sent one to Mary and one to Joseph and to Zechariah and to the shepherds watching their flocks. All with the same message 'Do Not Be Afraid.' This is a powerful message for us. This last year has been difficult for many. Everyone has been affected by this (COVID-19) pandemic. Maybe this is a way to say 'do not be afraid.'"