By Father Tyler Tenbarge
Special to The Message
Five men are discerning at the Diocese of Evansville's Father Deydier House of Discernment under the direction of Father Tyler Tenbarge. New residents include Nick Folz of Good Shepherd Parish in Evansville, Jacob Greulich of Corpus Christi Parish in Evansville, Jacob Schneider of Corpus Christi Parish and Kienan Corcoran of Little Flower Parish in Indianapolis. Each is either a student at one of the universities in Evansville or is working in Evansville.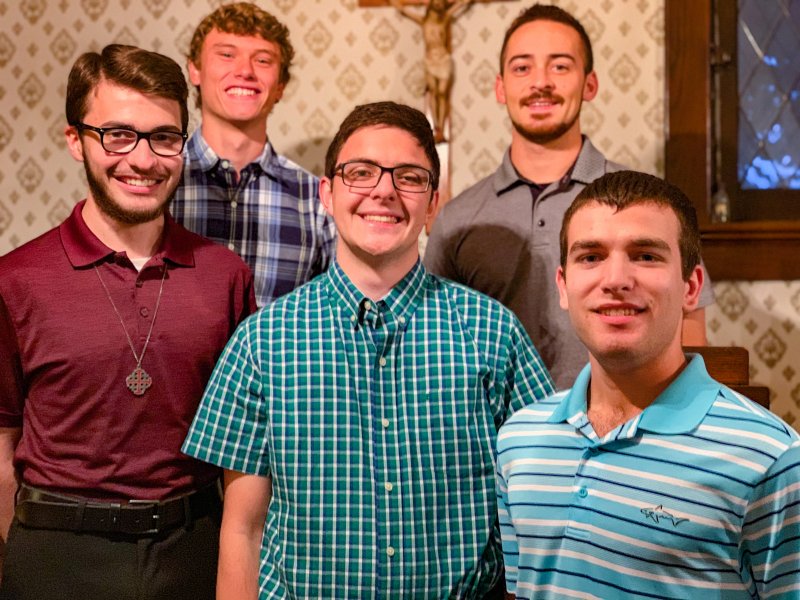 A few weeks after these four men arrived, Diocese of Evansville Seminarian Bradley Gehlhausen, a son of St. Mary Parish in Ireland, moved in for a formation year following his completion of college seminary. Bradley will be doing formation at the house while working in the Evansville area.
Weekly formation meetings led by Father Tyler accompany daily prayer and Mass, and visits from priests and seminarians help the residents see Christ's call for their own lives.
Former House residents Clint Johnson, a son of Holy Cross Parish in Fort Branch, and Chase Riecker, a son of St. Isidore the Farmer Parish in Celestine, are doing well in seminary at Saint Meinrad and Bishop Bruté, respectively, this fall.
"Savio" gatherings at the House of Discernment have evolved with the pandemic precautions. Following a July drive-in movie night and an early August Saturday morning run together, there have been two other Savio Nights held outdoors. More Savio gatherings will be scheduled, when possible, based upon prudential judgement of what can be done well.
New T-shirts were donated by three families on Evansville's west side. Savio guys can earn them by reaching a level of points based on the habits by which Saint Dominic Savio lived: prayer, fasting, fraternity with the saints, and sacrificing or penance. More information can be found on the House's Facebook Page – (https://www.facebook.com/Father-Deydier-House-of-Discernment-486086761878344).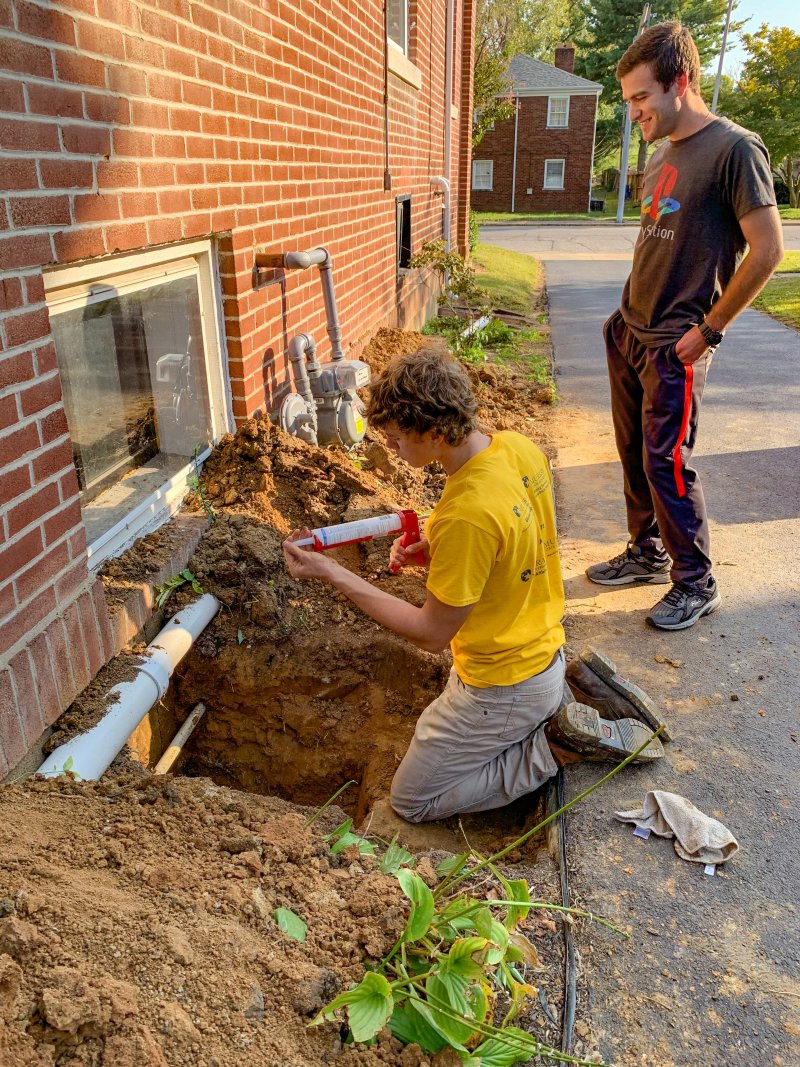 Leaky, aged pipes and a crack in the basement wall of the House of Discernment caused water to enter the basement in October. Father Tyler and the house residents spent two days digging and working on the problem before some local Catholics who are employees of Happe & Sons Construction replaced the old pipes.
FOCUS missionary Thomas Horlander meets with two groups of USI students at the House of Discernment weekly for Bible studies. FOCUS is new to USI this year and is gaining traction even amidst the restrictions for social distancing.
If you would like to support the work of the Father Deydier House of Discernment, email Father Tyler at [email protected], or find and follow the house on Facebook using the link above.