By Father Tyler Tenbarge
Special to The Message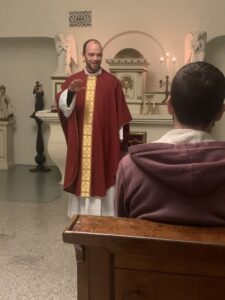 Even though the COVID-19 outbreak has changed normal routines and plans, the discernment and formation for the five residents at the Diocese of Evansville's Father Deydier House of Discernment successfully presses on. Each of our men are moving forward in their prayer and decision-making as they discern the voice of Christ and the movement of the Holy Spirit. Here are some highlights from late fall and early winter. 
House residents continued with Monday Night formation conferences each week. At each conference, residents learn about prayer, discernment, discipleship and begin to study some Catholic theology.
At Thanksgiving, House Director Father Tyler Tenbarge led the House on a Day of Recollection in Vincennes at the tomb of our first bishop, Servant of God Bishop Simon Bruté. Residents joined St. Francis Xavier Parish administrator and Associate Vocation Director, Father Tony Ernst, for Mass and a tour of Bishop Bruté's library, and they enjoyed some time praying on their own.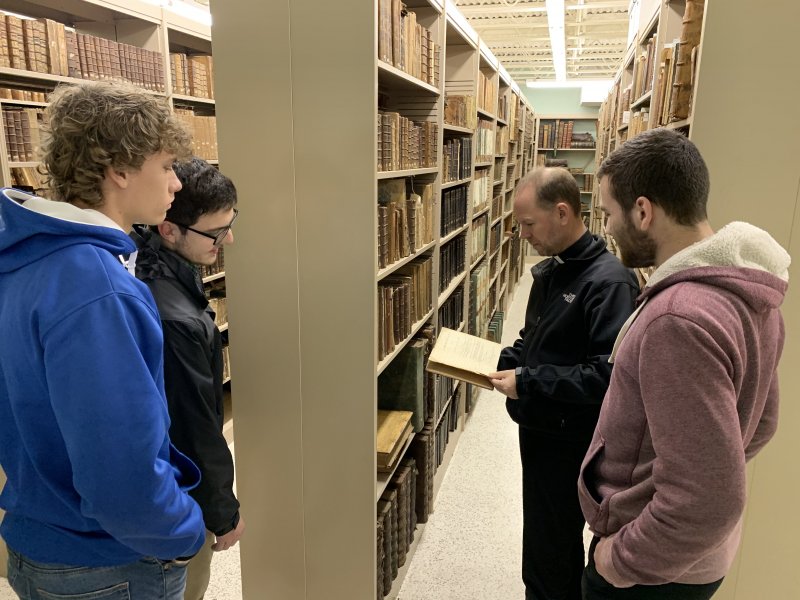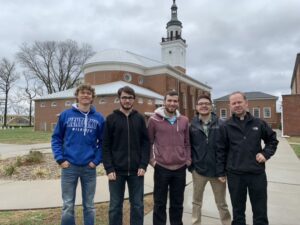 Savio events also continue for teenage guys. Two early-morning-Saturday runs dotted this past fall with more than 50 attending for Mass and a 2-mile run followed by a picnic breakfast. To celebrate the Solemnity of All Saints, Savio guys dressed up like images of a Saint and submitted photos. The winner for the high school division was Nate Goebel who replicated a painting of St. John the Evangelist. A few Savio guys who have been joining some seminarians for virtual, weekly faith formation likewise got to have dinner and spend some time with House residents and the seminarians over Christmas break.
House residents also hosted the annual Christmas party. Several college guys joined them for dinner, games and a gift exchange. Each attendee brought gifts, including beard supplies, books on Catholic virtue and lots of beef jerky. 
Bishop Joseph M. Siegel and Father Tyler, who also serves as diocesan Vocation Director, hosted the diocesan seminarians for a Christmas gathering that included Mass at Sacred Heart Church in Evansville and dinner at the House. Each seminarian received a new copy of Bishop Robert Barron's "Word on Fire Bible" thanks to a generous couple from the diocese.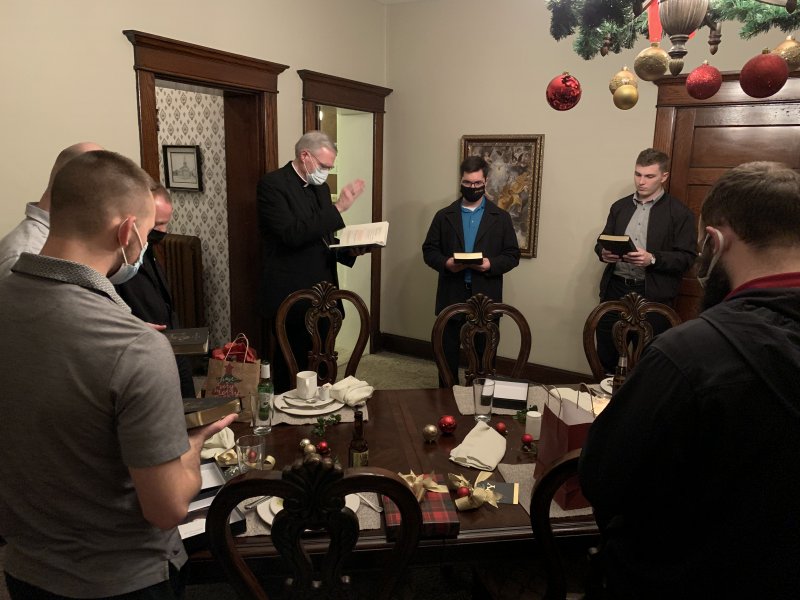 Our Monday Night "Holy Hour & Mass for Vocations" continues to be strong at Sacred Heart Church. All are welcome every Monday for Adoration and Confession starting at 6:30 p.m. Mass follows at 7:30 p.m.
Applications for the 2021-2022 year at the House of Discernment are currently being accepted. If you know of a young man (age 18-30) who might benefit from a Catholic community of prayer and fraternity while continuing his career or college, please have him contact House Director Father Tyler Tenbarge ([email protected]).