Special to The Message
The 5th Annual Friday KNIGHTS Hunger Bowl was part of the Sept. 10 high school football game between Evansville's Mater Dei and Reitz Memorial high schools. This project raises money to benefit the St. Vincent dePaul Food Pantry.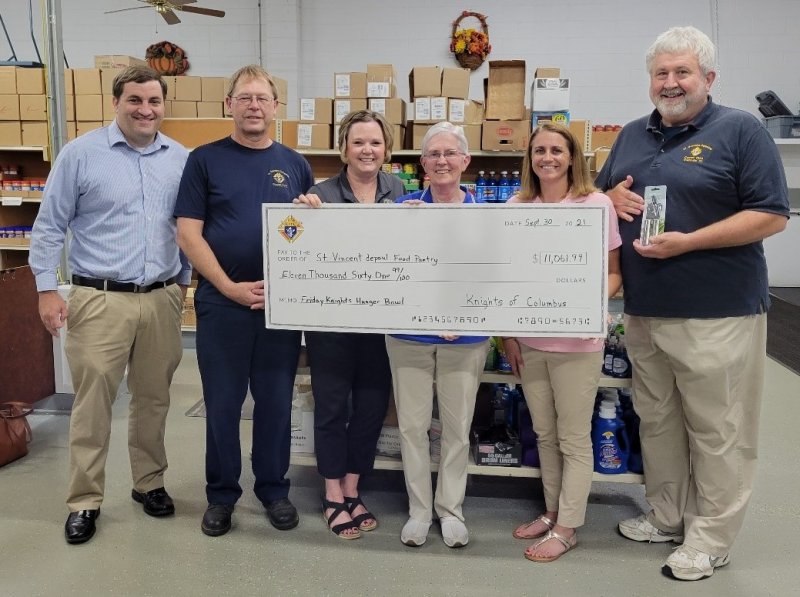 This year, the Hunger Bowl raised $11,161.11 to benefit the food pantry – up more than 350% from the first-year total of $3,151.36 raised in 2017. Overall, the Hunger Bowl has provided $36,873.92 to the food pantry.
Students from the two high schools and their elementary feeder schools joined Knights from several Evansville-area councils and fans who attended the game to raise funds. Organizers have worked to involve more people, more K of C councils, more schools and more parishes to grow the amount of support provided to the food pantry. 
Evansville-area Knights of Columbus councils include Council 565, Evansville west side parishes; Council 2215, Sts. Peter and Paul Parish, Haubstadt; Council 7544, St Benedict Cathedral Parish, Evansville; Council 8746, St. John the Baptist Parish, Newburgh; Council 10257, St. Clement Parish, Boonville; Council 12541, Holy Redeemer Parish, Evansville; Council 14659, St. John the Evangelist Parish, Daylight; Council 14673, Good Shepherd Parish, Evansville; Council 15092, Annunciation Parish, Evansville; and Council 16454, Auxilio – includes members of St. Philip Parish, Posey County, and Corpus Christi Parish, Evansville.