Special to The Message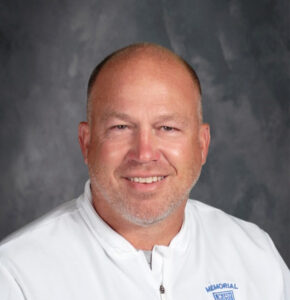 Reitz Memorial High School President Christian Mocek has announced the appointment of John Hurley as the Evansville school's new Dean of Student Services.
Hurley has most recently served as a Physical Education Teacher and Head Football Coach at Reitz Memorial. In addition to his role as Dean of Student Services, Hurley will continue serving as the Head Football Coach. He assumed his new duties July 18. 
He is a 1989 Reitz Memorial graduate, and went on to earn his bachelor's and master's degrees in education from the University of Southern Indiana.
Hurley began teaching at Reitz Memorial in 1996. For the past 27 years, he has taught World History, Economics and, most recently, Physical Education. He has also served as an Assistant Track Coach, Junior Varsity Football Coach, Varsity Assistant Coach, and Varsity Head Football Coach.
Hurley said, "It is an honor to be named the next Dean of Student Services. I am extremely proud and excited for the opportunity to continue to serve the Memorial community and support our students and families in my new role."
Mocek said, "I'm thrilled that John Hurley will be stepping into this new role. For the past 27 years, John has been a positive influence in the lives of countless students. As Dean of Student Services, he is charged with promoting a culture of growth and learning within the school building, and John has done that in the classroom and on the field throughout his career. John lives out Memorial's core values of faith, excellence, service and tradition in everything he does."