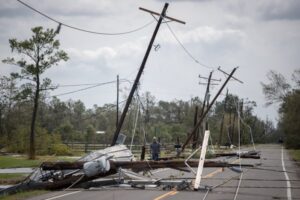 BY RHINA GUIDOS
Catholic News Service
WASHINGTON (CNS) – After Hurricane Laura made landfall with winds of 150 mph along the Texas-Louisiana border early on Aug. 27, bishops from the dioceses in its path found themselves the morning after assessing damages and checking in with others hours after the destructive storm had passed.
"We made it through the night here in Beaumont, waiting to hear from the eastern side of our diocese, which took a much worse hit, as did our brothers and sisters in Southwest Louisiana," said Beaumont, Texas, Bishop David L. Toups Aug. 27 on Facebook. "But I have to say, pretty miraculous on our end! Keeping all those affected by Laura in my prayers. Giving thanks to God that so many were spared her wrath."
Southwest Louisiana, where the Diocese of Lake Charles is located, suffered some of the most extensive damage. Following is an excerpt from an Aug. 29 post to the news section of the diocesan website, www.lcdiocese.org, by Pamela Seal:
Churches and rectories are destroyed. Nearly one-third of priests in active ministry are displaced. Only one of the six Catholic schools can open next week. All three homes for the Nigerian nuns of Daughters Mary Mother of Mercy are uninhabitable. Even the Chancery that houses the Tribunal and Fiscal offices is closed indefinitely due to extensive roof damage, according to Bishop Glen J. Provost.
"The city is a disaster," he said. "No house, no business is left untouched. The Chancery will be unusable in the foreseeable future. We have 39 (church) parishes and seven missions. All suffered some damage."
Bishop Toups, who was installed as the new head of the Beaumont diocese five days before the hurricane, went out to visit the eastern part of his new diocese, which suffered the brunt of the damage. In a video posted on Facebook and taken near a fallen structure close to a destroyed shrine at St. Mary Catholic Church in Orange, Texas, he stood near a statue of the Sacred Heart of Jesus that was still standing.
"We have sustained damage, but nothing compared to our brothers and sisters in Lake Charles," he said. "So, I really want all of us to pray for all of them in a very particular way. I stopped here because this little shrine Father (Joseph) Daleo, our pastor in Saint Mary's, recently put together, I think is an amazing image of life for us right now in the midst of the mess, in the midst of the craziness, in the midst of the debris. Right here, standing firm, standing strong is Jesus and his sacred heart. Everything can fall apart around us but here is Christ standing firm. He is with us and so our message, especially to our brothers and sisters in Lake Charles, is to know that Christ is standing firm with us even in the midst of devastation and destruction. He is with us."