By Tim Lilley
The Message editor
Father Christopher Droste was 4 when the late Father Mike Madden became his pastor at St. James Parish in Haubstadt. Father Christopher served as homilist for Father Mike's Mass of Christian Burial. Bishop Joseph M. Siegel celebrated the Mass Sept. 10 at Our Lady of Hope Parish in Washington, and more than two dozen active and retired priests of the diocese attended and concelebrated.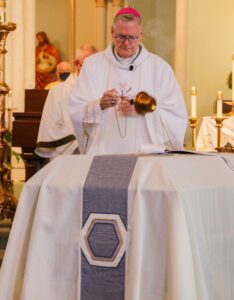 Father Christopher recalled his last visit to Father Mike less than two weeks ago; he took his dad along. "They wouldn't let my dad in (the facility, due to COVID-19 restrictions), so I had him go around the outside to Father Mike's window," he explained, "Father Mike saluted my dad," he said, fighting back tears, "and I was struck by the image of the two men who raised me in my life and in my faith."
Looking at Father Mike's family in the front few pews of Our Lady of Hope Church, Father Christopher said, "I love this man. He was a good priest.
"His advice to me on becoming a priest was 'keep it simple,' and I'm going to do that now by focusing on one word – humility," he continued. "Father Mike taught me not to be afraid of humility. The Holy Father once stated that there is no humility without humiliation. Father Mike taught me not to fear humiliation."
He said that, as he was growing up in Gibson County, "the only thing I knew about Washington, Indiana, is that's where Father Mike's from." He also recalled one of the things he did after deciding to enter the seminary to prepare for ordination as a priest of the Diocese of Evansville.
"I hadn't spoken to Father Mike in years," Father Christopher explained, "and I was living in Austin, Texas, at the time. I did a Google search and learned that he was in Bloomfield. So I tracked him down, called him, and said, 'You're never going to believe who this is and why I'm calling.'"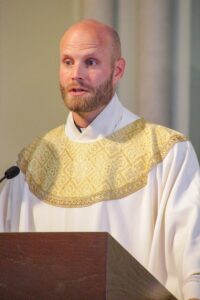 The soon-to-be-seminarian might have been wrong on the second count. "After I finished telling him, Father Mike said, 'When you were a server, I kind of thought you had what it took (to be a priest).'"
Then, four years ago, Father Mike retired from pastoral ministry after serving as pastor of Divine Mercy Parish in St. Anthony. His replacement? Father Christopher.
"He kept it simple," Father Christopher said, managing a smile through the tears. "He handed me the keys, we had lunch and he left."
He concluded by saying, "The way forward is the way of Jesus … the way of humility. Father Mike was on that road. He was a good priest who followed the way of Christ."
Father Mike, 71, died Sept. 4 at Scenic Hills, at Monastery Immaculate Conception in Ferdinand, with his mother, Helena, and youngest sister, Kathy, at his side. 
Born on April 1, 1949, in Washington, he was the first of six children of Bernard J. and Helena (Strange) Madden. 
He attended St. Simon's Elementary School in Washington, graduating with the inaugural class in 1963. He began his formal training for the priesthood at Magister Noster Latin School in Evansville, receiving his diploma in 1967. He went on to attend St. Meinrad College, graduating with a Bachelor of Arts degree in 1971.
Upon nomination of Bishop Francis R. Shea, he was accepted as a student in the Canisianum in Innsbruck, Austria, to pursue his theological studies. He entered the Canisianum in the fall of 1971 and received his theology degree in July 1975. He returned to the U.S. only once during his four-year tenure.
Bishop Shea ordained him to the priesthood on Aug. 22, 1975, at St. Simon Catholic Church in Washington. 
His pastoral service included:
First Appointments: Sept. 1, 1975, Associate Pastor, St. Wendel Parish, St. Wendel, and Assistant to the Officialis, Diocesan Tribunal
Subsequent Appointments:
March 1, 1977: Associate Pastor, Christ the King Parish, Evansville, and continue in the Diocesan Tribunal

Jan. 1, 1980: part-time teacher at Reitz Memorial High School, continue at Christ the King Parish and in the Diocesan Tribunal

Sept. 1, 1980: Relieved of duties in the Diocesan Tribunal, continue at Christ the King Parish and Reitz Memorial High School

April 3, 1981: Temporary Administrator, Holy Spirit Parish, Evansville, continue at Christ the King Parish and Reitz Memorial High School

Aug. 10, 1981: Associate Pastor, Holy Spirit Parish, Evansville, continue at Reitz Memorial High School

June 28, 1984: Pastor, St. James Parish, Haubstadt

July 30, 1997: Pastor, Holy Spirit Parish, Evansville

July 8, 1998: Pastor, St. Matthew Parish, Mount Vernon

Aug. 7, 2002: Pastor, Holy Name Parish, Bloomfield

July 2, 2008: Pastor, St. Peter Parish, Linton, continue as Pastor of Holy Name Parish

Dec. 4, 2013: Pastor, St. Anthony Parish, St. Anthony, and Sacred Heart Parish, Schnellville
Father Mike served as Dean of the Princeton Deanery from 1987 to 1994, and he also served three five-year terms on the Diocese of Evansville College of Consultors – one term each under three bishops: Bishop Shea, Bishop Gerald A. Gettelfinger and Bishop Charles C. Thompson. He retired from pastoral ministry on Jan. 13, 2016.
Father Mike was preceded in death by his father, Bernard J., and one brother, J. Christopher. 
Survivors include his mother, Helena Madden of Washington; two brothers: Dennis (Janice) Madden of Bloomington and James Madden of Valparaiso; two sisters Kathleen (Mike) Burns of Columbus and Rebecca (Roy) Anderson of Huntley, Illinois; six nieces; one nephew; three grandnieces; and one grandnephew. 
Interment in the Priests' Circle of St. John Cemetery in Washington followed the Mass of Christian Burial.
Please keep Father Mike and his family in your prayers.