By Dr. Daryl Hagan
Superintendent of Catholic Schools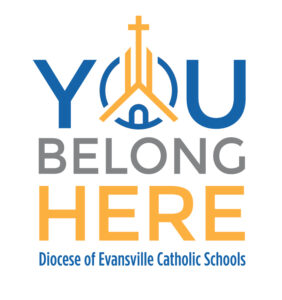 On Aug. 5, 2020, the first six Catholic schools in the Diocese of Evansville reopened their doors and welcomed students to a new school year. Today, all 26 Catholic schools are now reopened and the school year is underway for the 6,400 students. As superintendent, I annually visit each school during the month of August to personally welcome students back to school and thank the faculties and staffs for their ministry to the Church. I continued that practice this year but limited my visit to the foyer of the school. I learned that while some things are different like wearing masks, social distancing and intentional handwashing, the hallmarks of Catholic schools remain strong and vibrant.
The schools' mission and Catholic identity are beacons of light as students returned to school liturgies, adoration, daily prayer and retreats. Pastors stepped up and offered additional Masses for students in order to comply with six feet of separation. Principals and campus ministers got creative in providing spiritual growth and service opportunities for students while ensuring their safety. We are grateful to Bishop Joseph M. Siegel, who continued his annual fall visits to our high schools and celebrated Mass with the seniors while the underclassmen participated virtually from their classrooms.
Catholic school leadership can be seen as a ministry that promotes and protects the responsibilities and rights of the school community (NSBECS, 2012). The diocese is blessed with outstanding principals and presidents who reopened schools safely – in their buildings and on schedule. Principals spent the summer, not on vacation, but measuring the distance between desks; relocating classrooms to larger spaces within the schools; rethinking traffic patterns in and out of the schools; and providing a calm and welcoming environment for the students' return. Due to their efforts in cooperation with teachers, staff and parents, COVID-19, to date, has had a minimal effect on our students and employees in relation to positive cases.
Students have returned to their classrooms, and our dedicated teachers are once again focusing on curriculum standards while assessing and identifying gaps in skills that might have occurred from the spring. Teachers have reduced the number of virtual platforms formerly utilized by students and have adopted a school-wide common platform to ensure consistency between classes and grades. The utilization of a common platform will be key for continuous effective instruction should a grade, school or diocese have to transition to extended learning from home in the future. Additionally, the Catholic Education Office held virtual grade-level teacher-share meetings in September to facilitate the sharing of innovative and creative ideas among teachers.
The operation of our schools has taken on a new life. Parents and volunteers only come in the schools when deemed essential. Forgotten items such as books and lunches are now dropped off at the front of the school in the drop box. The school office is no longer the central hub where everything happens, and the dedicated administrative assistants are protected behind plexiglass and closed doors. Revenue from fundraising efforts has moved from festivals to weekly drive-by dinners. School advisory council meetings now occur using a virtual platform. Community speakers, field trips and programs are now conducted virtually as well. Extracurricular programs, including athletics, have been reimagined to provide the safest environments in which students can excel. We are limiting the number of spectators at all events.
Shaped by communion and community, Catholic schools have once again led the way in the field of education and demonstrated how to safely reopen schools in a pandemic.
This article first appeared in the Fall 2020 issue of "Momentum" magazine, published by the National Catholic Educational Association.