By Megan Erbacher
The Message assistant editor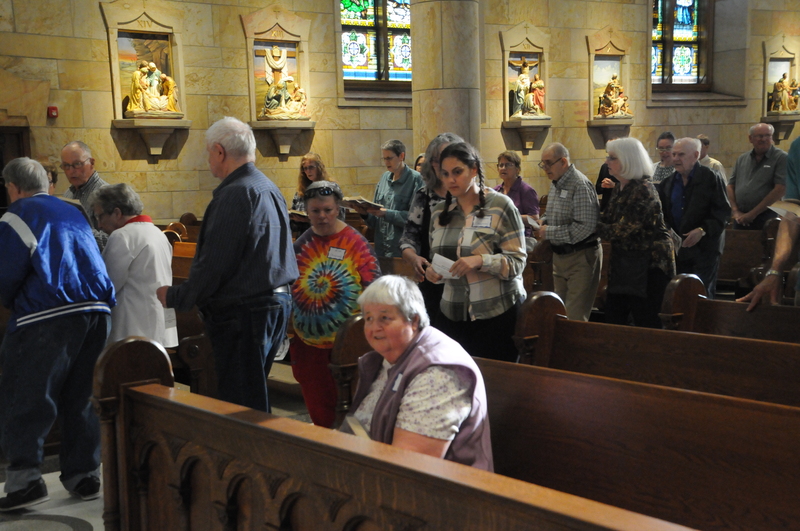 On April 11, St. Joseph Parish in Jasper welcomed parishioners and faithful to celebrate a Mass for All, which focused on people with unique and diverse needs. The Mass was hosted by the Jasper SPRED (Special Religious Development) group.
St. Joseph pastor Father John Brosmer, who also serves as dean of the East Deanery, celebrated the Mass. 
Organizers said the Mass for All specifically encourages those who are "differently abled" to help with the ministries during Mass, including serving as ushers, greeters, servers, lectors or gift bearers. Adam Schwartz served the Mass. Kathy Schroering and Scott Clark served as lectors. Joni Hassfurther, Susan Luegers and Rachel Buechler presented the gifts to Father John.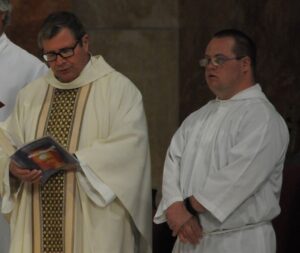 This is the third Mass for All hosted within the Diocese of Evansville, which is part of the ongoing work of the diocese's Ministry with Persons with Disabilities. The first Mass for All was hosted last June by St. Francis Xavier Parish in Vincennes, for the North Deanery, at St. John the Apostle Church. In November of last year, St. Benedict Cathedral in Evansville hosted the diocese's second Mass for All for the South Deanery.
During his homily, Father John welcomed everyone who gathered on the "lovely night" for Mass.
"I thank the teachers for bringing everyone here tonight to have this celebration for all," he said. "It's nice that it's during the Easter celebration, Easter week; it gives us hope."
Father John spoke about hope during his homily. He said that Jesus Christ gives us hope, and while it's not always perfect, he gives us the hope to continue on. Father John reminded the faithful that Jesus gives us the promise we will see him again.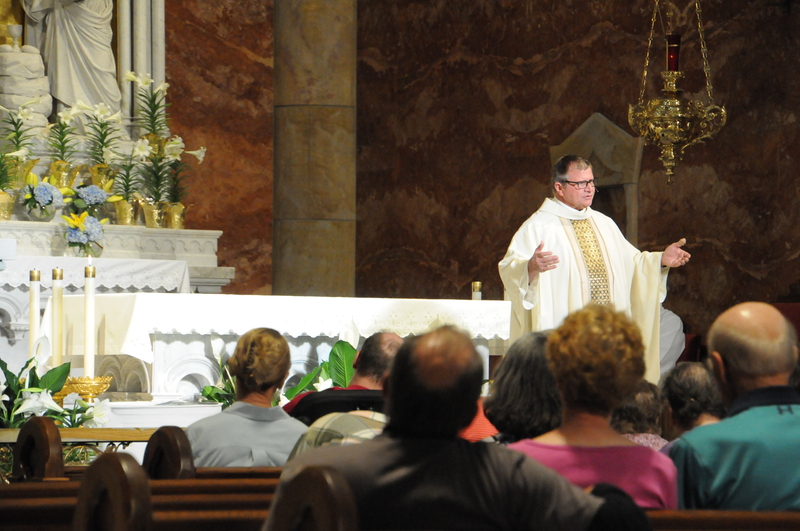 Jesus Christ will help us in this journey in life, Father John continued, because he cares for all of us. Jesus rose from the dead, he said, and Jesus gave us all life. 
"We're all significant," Father John said. "So let us keep that faith, the faith of hope. 
"As we gather here tonight to have this Mass for All, Jesus welcomes all of you. In looking at us, (Jesus) reached out to all people. I'm just thankful for our teachers and all of those who come out and do the work that you do for all of them. You include them as part of God's kingdom in the work that you do. So thank you for your work."
Jasper SPRED members are Betty Beckman, Rachel Buechler, Scott Clark, Richard Fleck, Joni Hassfurther, Justin Hickman, Ryan Kempf, Kim Lau, Susan Luegers, Tim Sanders, Paul Schepers, Kathy Schroering, Adam Schwartz, Joe Steltenpohl, Stephanie Terwiske and Frank Vonderheide. And the catechists are Sister Christine Fendel, Mary Ann Huls, Bev Lau, Nancy Marks, Mary Reyling, Sister Doris Schepers, Rosina Schuler and Martha Smith.
Catechist Nancy Marks serves as the parish's liaison to the diocese's Ministry with Persons with Disabilities.
"We are grateful to St. Joseph Parish for supporting us and area parishes through the SPRED ministry," Marks said. "'All are welcome' is one of our themes that embodies what SPRED is all about. Through it, we assist our SPRED friends in learning more about God and our faith."
The Diocese of Evansville currently has one active SPRED community, at St. Joseph in Jasper, with the hope that more will form across the diocese.
SPRED was developed in the mid-1960s through work by Archdiocese of Chicago Father James McCarthy, Sister Mary Theresa Harrington and Sister Susanne Gallagher, who created a process for individuals with developmental disabilities to engage in faith formation in small faith communities. This process seeks to facilitate opportunities for "those living with developmental disabilities to experience a sense of the sacred, a sense of church, a sense of the Christ, and a sense of God," according to catechists. 
In its mission statement, SPRED hopes those who gather will form small faith communities, welcome persons with intellectual and developmental disabilities, and foster inclusion in the liturgy.
For more information on the diocese's Ministry with Persons with Disabilities, visit https://www.evdio.org/ministry-with-persons-with-disabilities.html.