The Message editor
The 4th Degree Knights of Columbus Lawrence A. Vieck Assembly, of Washington, joined by Knights Council #630 of Washington and Council #6679 of Linton, welcomed a large crowd to the 32nd RSVP Vocation Appreciation Dinner. The event occurred at the Knights' hall in Washington.
The RSVP vocations program originated in 1988 and continues to be a successful endeavor with the Washington and Linton Knights councils, and the Vieck Assembly of 4th Degree Knights.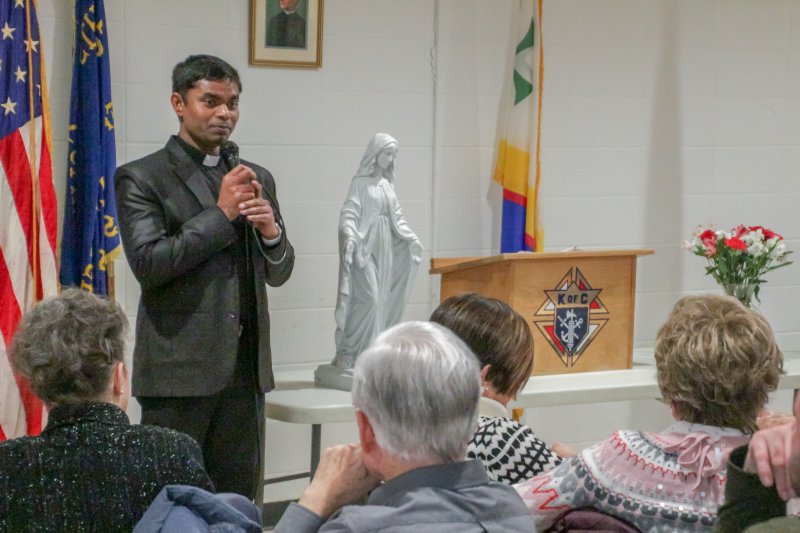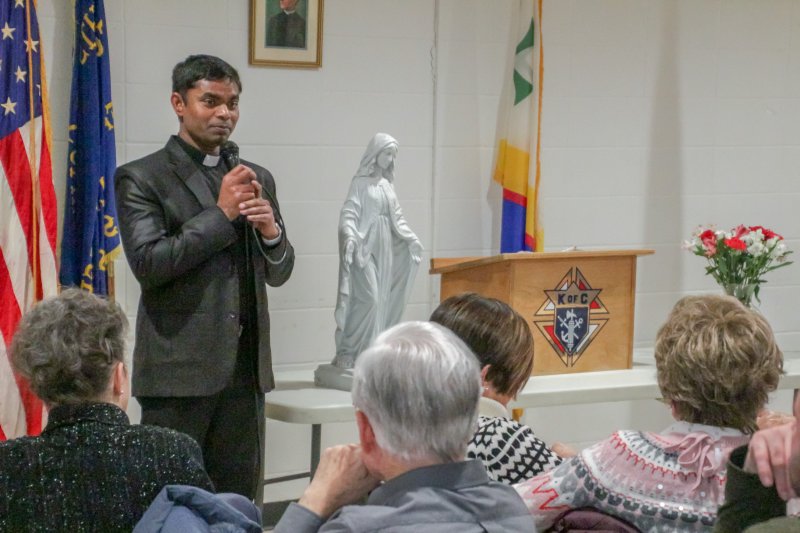 Father Sudhakar Bhastati, administrator of St. Peter Parish in Montgomery, served as keynote speaker and gave a wonderful presentation on his life and vocation.
Our Lady of Hope Parish's Daughters of Isabella joined the Knights Council #630 Ladies Auxiliary, the two Knights Council and the Vieck 4th Degree Assembly in recognizing, thanking and supporting seminarians and women religious novices from across the Diocese of Evansville. Father Jim Koressel, retired priest of the diocese, Our Lady of Hope Pastor Father Paul Ferguson and Parochial Vicar Father Juan Ramirez and Father Sudhakar attended the event.
Joining them were Diocese of Evansville seminarians Bradley Gehlhausen, a son of St. Mary Parish in Ireland; Keith Hart, a son of St. Peter Parish in Linton; and Tyler Underhill, a son of Our Lady of Hope Parish in Washington. Also during the dinner seminarians Nick Sellers, a son of Holy cross Parish in Fort Branch, and Chris Wickman, a son of Our Lady of Hope Parish, who could not attend, were recognized and thanked. All the seminarians received presentations of financial support, as did Sisters of Providence novice Jessica Vitente, who was unable to attend. Members of the Sisters of St. Benedict of Ferdinand and the Sisters of Providence of St. Mary-of-the-Woods, and Deacon Dennis Hilderbrand of Our Lady of Hope Parish, also attended.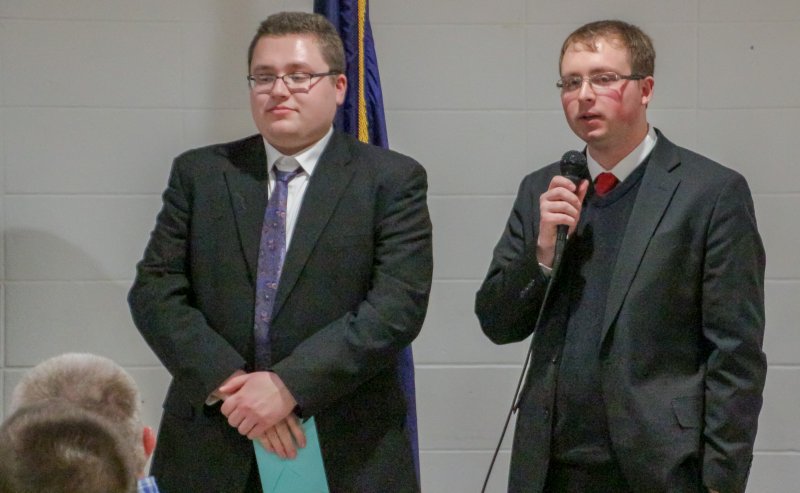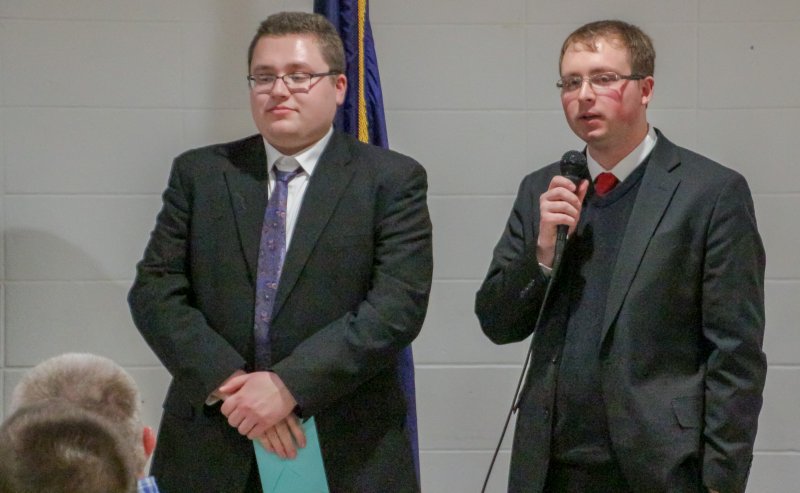 Father Sudhakar shared his story of growing up in a Catholic family in India, where census numbers from 2011 revealed a Christian population of only 2.5 percent. The vast majority of Indians are Hindus, and Muslims make up another large group based on religious affiliation.
Father Sudhakar noted that arranged marriages continue even today in the country, and his own parents' marriage was arranged. "My father was Hindu, and my mother was a strong Catholic," he explained, saying that his father honored his mother's wish that he convert to Catholicism.
The youngest of six children (four boys and two girls), Father Sudhakar talked about growing up in a home situated across the street from the parish church – with a mother who truly wanted one of her sons to become a priest. He said that to enter seminary, young men in India had to pass the 10th grade. "When I passed 10th grade, my mother packed all my stuff, took me to the seminary and left me there," he added with a grin.
It was during his time in the seminary that Father Sudhakar began studying the lives of the saints. "The saints really touched me," he said. "I realized that only God is permanent, and I decided that I should live for the permanent." He spent 10 years in formation and has spent the last 11 years as a priest.