By Tim Lilley
The Message editor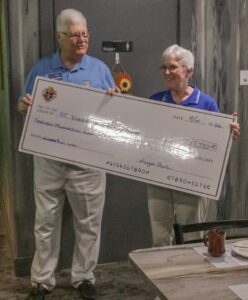 Shortly after he presented a symbolic, oversized check for $17,750 to Benedictine Sister Donna Marie Herr to benefit the St. Vincent de Paul Food Panty in Evansville, Hunger Bowl co-chair John Sandwell recalled another presentation to Sister Donna.
John said, "The Knights of Columbus had raised $11,000 from the Hunger Bowl that year. When I presented the check to Sister Donna Marie, she smiled a big smile and said, 'Thank you so much. This will cover the food pantry's operation for three days.' I said, 'Whoa. We really have a lot more to do.'"
So, they did. Evansville-area Knights of Columbus councils, partnering with Evansville's two Catholic high schools and the elementary schools that serve as feeders, mounted an effort to raise enough money to put the all-time Knights' donation to the food pantry from the sixth annual Hunger Bowl above $50,000.
They made it.
Sister Donna Marie said, "We are so grateful to all of you. We are seeing an increase in the number of people reaching out to us because food prices are so high these days. We are literally sending people out to shop every day, and your efforts to help us make a major difference. Thank you again!"
Bishop Joseph M. Siegel joined Sister Donna Marie and Knights who led the Hunger Bowl effort for breakfast and the check presentation September 10 at Roca Bar in Evansville. He thanks the Knights for everything they do in Evansville, across the diocese and nation, and around the world to help the less fortunate. He also thanked Sister Donna Marie for her efforts and the efforts of all the volunteers who make the St. Vincent de Paul Food Pantry a vital resource for greater Evansville.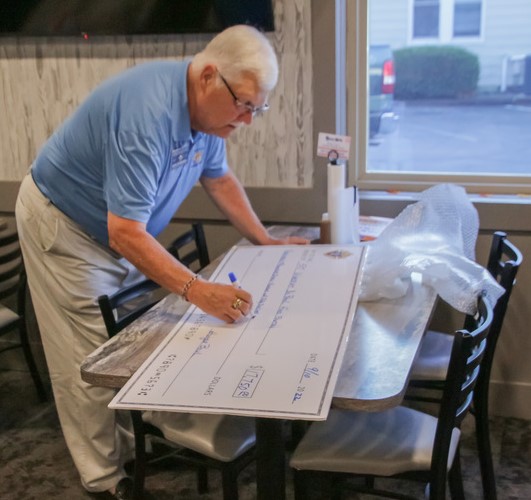 John, a member of Auxilio Council #16454 of St. Philip Parish in Posey County and Corpus Christi Parish in Evansville, co-chaired the 2022 effort with Mark Hackert, a member of Council #7544 of St. Benedict Cathedral Parish in Evansville. Mark was out of town and unable to attend the breakfast and check presentation.
The Hunger Bowl fundraising effort occurs annually in conjunction with the football game pitting Mater Dei High School against Reitz Memorial High School. Knights of Columbus from several Evansville-area councils move among the crowd during the game accepting donations, which are supplemented by donations from the two high schools' families and the families of the Catholic elementary schools that feed them. 
As he presented Sister Donna Marie with the $17,750 check, John noted that some elementary schools had not yet finished their efforts, so the final total for this year will be higher. 
Walt Peycha of the Indiana State Council of the Knights of Columbus came to Evansville for the Hunger Bowl and attended the breakfast. Walt has also visited Evansville for the Knights' Sleep in Heavenly Peace effort, during which they build and deliver beds with bedding, pillows and bedclothes to area youngsters in need.
Walt said, "I have shared news of the good work you are doing in the Evansville area with councils across the state. Thank you for all of your efforts."
Evansville-area K of C councils include:
Council #565 — Evansville's west side; this is Evansville's original council
Council #2215—Sts. Peter and Paul Parish in Haubstadt
Council #7544—St. Benedict Cathedral Parish in Evansville
Council #8746—St. John the Baptist Parish in Newburgh
Council #10257—Boonville area
Council #12541---Holy Redeemer Parish in Evansville
Council #14659—St. John the Evangelist Parish in Daylight 
Council #14673—Good Shepherd Parish in Evansville
Council #15092—Annunciation Parish in Evansville 
Auxilio Council #16454— St. Philip Parish in Posey County and Corpus Christi Parish in Evansville
Council #10257—St. Clement Parish, Boonville