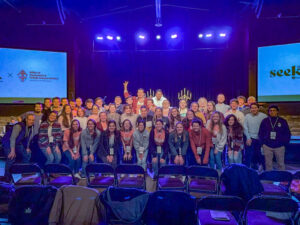 By Chris Hoehn
A View From Campus
SEEK 2022 was held Feb. 4-6 in Underwood, Indiana. The event was an in-person gathering in connection with the national and virtual SEEK22 Conference, which is held annually by the Fellowship of Catholic University Students.
In a normal year, about 20,000 college students attend the national SEEK conference. But this year — as they did last year — national-conference organizers chose to hold the event in a hybrid format because of concerns about COVID-19. Nearly 300 students gathered in Underwood from area campuses.
College students came from DePauw University in Greencastle; Indiana University in Bloomington; the University of Southern Indiana in Evansville; and Butler University, Marian University, and Indiana University Purdue University-Indianapolis, all in Indianapolis.
While the national SEEK organizers want people to take advantage of the speakers and presentations during the virtual conference, the desire is that young people have an opportunity to experience these talks and discuss the issues in community. SEEK 2022 was an invitation to explore life's bigger questions: who we are, where we're going and what we seek along the journey.
As FOCUS' national conference, SEEK encourages everyone to explore what they truly seek – to learn about the faith; to share in friendship; to be encouraged in their unique vocation; and to experience the love, hope and very real presence of Jesus Christ through His Church.
Bishop Joseph M. Siegel celebrated Mass on Feb. 5. Several priests were also available throughout the weekend to hear confessions. Archbishop Charles C. Thompson of Indianapolis celebrated Mass Feb. 6. The weekend also featured additional time for prayer, fellowship, musical entertainment and Eucharistic adoration.
It was time to step away from the distractions with plenty of time dedicated to prayer, adoration, Scripture and the sacraments. At the end of the weekend, it was announced that SEEK 2023 will be held in St Louis, Missouri. Plans are underway; and the students are excited, and anticipate joining with more colleges and students to attend.
John Shaughnessy of The Criterion, newspaper of the Archdiocese of Indianapolis, also contributed to this column.