By The Message staff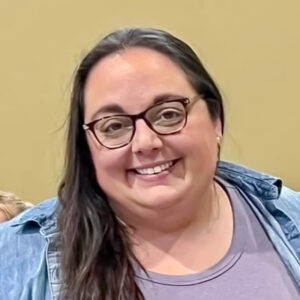 Lynn Falcony of Newburgh has joined the Diocese of Evansville staff as campus minister at the University of Evansville. She fills a vacancy created by the departure of Sister of Providence Jessica Vitente, who left to pursue educational opportunities outside the diocese.
Lynn is a 2005 graduate of Reitz Memorial High School, and she earned an undergraduate degree in psychology from the University of Indiana East. Lynn spent time in discernment and formation with the Sisters of St. Benedict of Ferdinand, and she has been active in diocesan ministries - including Teens Encounter Christ, Cursillo, and Source + Summit.
Diocesan Director of Youth and Young Adult Ministry Jeremy Goebel said, "I am grateful and excited to welcome Lynn as our new campus minister at the University of Evansville. Her passion for her Catholic faith is evident and contagious. Please join me in praying for Lynn and the students and staff that she will serve on the UE campus."
Lynn said, "Over the years, so many individuals in our diocese have generously shared God's love with me and created a safe space to grow. I am most excited about creating that space for students - where they may encounter Christ's love in a personal way, explore their gifts and grow in our faith, while also providing them with opportunities to share the love of Christ with others in our community."
Lynn joins the staff from Southwestern Behavioral Healthcare, where she served as a skills-development specialist and as a member of the crisis management team. She also completed a research internship with Youth First in Evansville. 
Lynn also served as a certified pharmacy technician at St. Mary Medical Center in Evansville, now Ascension St. Vincent Hospital.