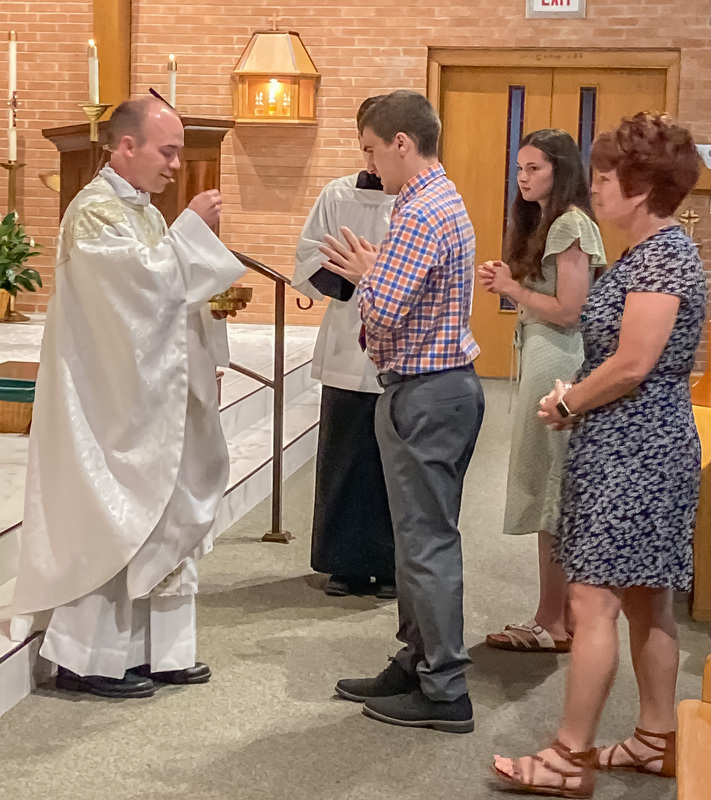 By Karen Schneider
A PLACE FOR ALL
On Sept. 3, 2022, our oldest child, Cooper, finally received the sacraments of First Reconciliation and First Communion – at age 23 – at our home parish of Corpus Christi in Evansville. Those sacraments are typically received during a child's second-grade year. So, you may ask, why would someone at his age just now be receiving them? Providing some background information might help you understand.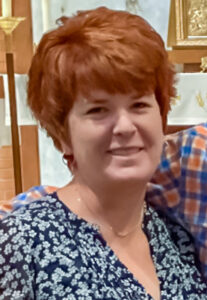 Cooper, for the most part, is non-verbal. We were given many indications for Cooper's disabilities over the years, such as apraxia (low muscle tone); ADHD; mild cerebral palsy; and Autism – all of which could present an obstacle for Cooper to comprehend and fully participate in the sacraments if taught and presented in the usual format.
We tried multiple times over the years to ask for Cooper to receive the sacraments, but to no avail. Some of the reasons for denial we received included, "He won't be able to understand the meaning behind receiving the sacraments;" and "He is a child of God, and it is not necessary to partake in the sacraments."
Maybe some of you have heard these same lines. This was the standard mindset in years past, but evolution has occurred in recent years. Parish sacramental celebrations should be accessible to persons with disabilities, and open to their full, active and conscious participation, according to their capacity.
We felt like we had no support. That all changed when I connected with the Diocese of Evansville's Ministry with Persons with Disabilities. Corpus Christi Parish's Faith Formation Director, Cecilia Reising, was able to obtain and use materials geared toward guiding those with developmental disabilities in learning the sacraments. Through research, we also found that these kinds of candidates do better if they have sponsors to help guide them. It gives them someone to emulate.
Cooper had a wonderful role model/sponsor in Jessie Bacon. Cecilia and Jessie worked together to scale the curriculum down to a way Cooper would understand. They rehearsed with him in the church so he would be familiar with his surroundings, and understand proper and respectful behavior in the Lord's house. We also adapted his First Reconciliation to take into account that he was non-verbal by writing his confession down on paper and presenting that to Father.
I also can't thank Father Tyler Tenbarge enough for making this day so special for Cooper and for us. He was decked out in his white vestments just like he would for the usual second grade's First Communion. The altar was also dressed in white. He made the whole Mass about Cooper and his special day. The entire parish family was there to support him. It warmed my heart and brought a tear to my eye!
Parish staff and volunteers are invited to a Disability Ministry Educational Day from 8:30 a.m. CDT to 3 p.m. CDT April 27 at the Diocese of Evansville Catholic Center. Immaculate Heart of Mary Sister Kathleen Schipani, director of the Archdiocese of Philadelphia's Office for Persons with Disabilities, will discuss how to prepare for and celebrate sacraments with persons with disabilities. For more information, go to
https://forms.gle/H29xZrLAqK1JrL4N8.
Karen Schneider serves as a pharmacist at Encompass Health Deaconess Rehabilitation Hospital in Newburgh. She and her husband Tom have been married more than 27 years, and they have three children. Cooper, 23; Jake, 21, a junior at Marian University in minor seminary; and Anna, 19, a sophomore in nursing at the University of Southern Indiana. They are members of Corpus Christi Parish, where Karen serves as disability liaison.