By Megan Erbacher
The Message assistant editor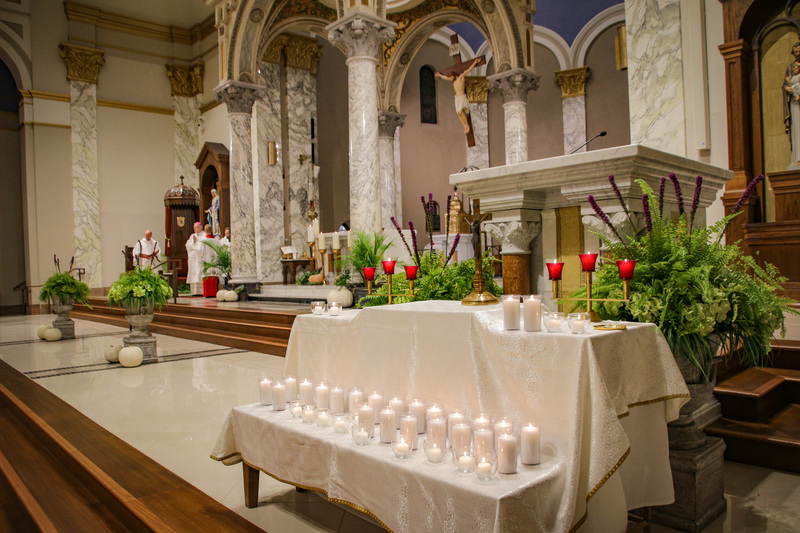 Bishop Joseph M. Siegel celebrated the Diocese of Evansville's inaugural Mass of Remembrance Nov. 4 at St. Benedict Cathedral in Evansville. 
This Mass was for families who have lost a child at any age or stage of life, to remember, celebrate and honor their lives. Parents were invited to write their child's name in a book of remembrance, as well as light a candle in their memory.
Father Jason Gries, pastor of Holy Redeemer Parish in Evansville, concelebrated the Mass with Bishop Siegel. Deacon Ed Walker and Deacon Bob Martin assisted. Matt Miller, diocesan director of the Office of Worship, served as Master of Ceremonies.
Bishop Siegel began his homily by noting the evening's Gospel, John 6:37-40, states, "this is the will of my Father, that everyone who sees the Son and believes in Him may have eternal life."
Bishop Siegel said these words of the Gospel passage remind us it is God's desire for all his children to be safe. Even those children who seem lost to us from the separation of death are not really lost, the bishop explained, but are gathered by Jesus, the Good Shepherd, to his heavenly home.
In his homily, Bishop Siegel told the congregation that Jesus promised us he prepared a special place for all of his faithful brothers and sisters in his father's kingdom. In that kingdom, the bishop said our loved ones are at their fullest of peace and joy fulfillment as they see their loving God face-to-face.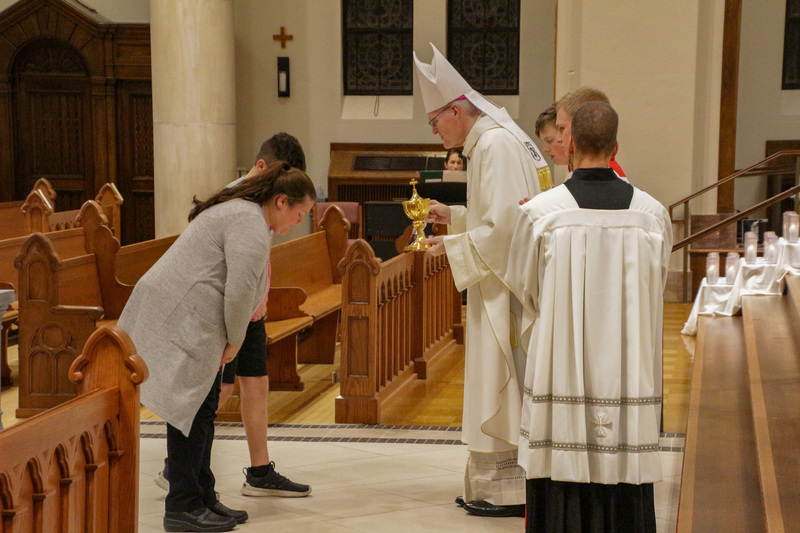 We believe with all our hearts that from the moment of our conception, as God breathes life into us, we are precious and created in his likeness, Bishop Siegel said. From that moment, he said God calls us in his grace to share the fullness of this life one day in heaven, whether that be 90 years of life here on earth, just a few months in our mother's womb, or any time between.
During his homily, Bishop Siegel said it is Jesus' promise of eternal life that helps sustain us through the grief and pain we feel over the loss of someone we have loved. It is natural for us to be filled with questions and doubts when we are faced with such a painful loss, he explained, and we know, of course, there are no easy answers and no quick resolutions.
As much as we wish we could find the right words, Bishop Siegel said we know there is nothing we could say to take away the pain felt by so many of you.
As people of faith, brothers and sisters in the church, Bishop Siegel said we gathered to pray and remember lost loved ones, and to support our brothers and sisters in Christ and try to share their grief. He said we can only hope the special Mass of Remembrance and Red Bird Ministries will, in some way, help ease their burden a bit and let them know they're not alone.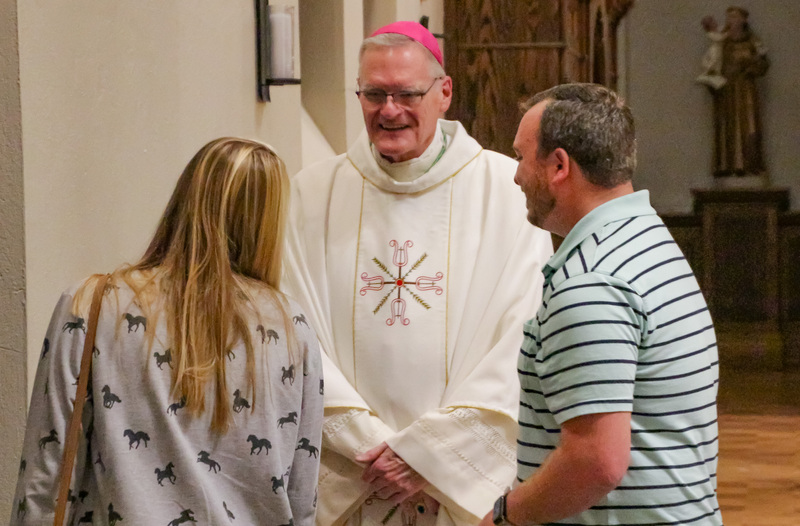 Death here on earth is not an end, Bishop Siegel said, but rather, a new beginning. From their place with God, the bishop said we believe they are watching over and praying for their loved ones still on earth.
It is our hope and faith that, one day, when the Lord calls us home, we will see your dear ones in the joy of heaven and share their love for eternity, Bishop Siegel said.
He concluded by saying, may the Lord bless you and keep you, may the Lord let his faith shine upon you and be gracious to you, may the Lord look upon you with kindness and give you his peace.
After the Mass of Remembrance, all were invited to a reception where information was available about Red Bird Ministries, a new and ongoing ministry in the Diocese of Evansville for families who have experienced child loss.