The Message assistant editor
Mater Dei High School has held the Diocese of Evansville's first-ever virtual commencement ceremony – for the school's Class of 2020.
Public-gathering restrictions due to COVID-19 prevented an in-person ceremony, but administrators said, "We are proud of our students and refused to let a pandemic keep us from celebrating our seniors and this milestone graduation!"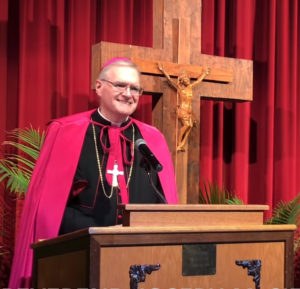 On May 17, the date for what would have been the in-person ceremony at the Old National Events Plaza, Mater Dei released a YouTube link to the pre-recorded virtual graduation. WNIN also aired the ceremony May 17 and 20.
The ceremony was filmed in several parts, according to administrators, including speeches from students and dignitaries. Bishop Joseph M. Siegel also recorded a message for graduating seniors. 
Students were allowed inside the school in shifts of six on May 11 to record graduates walking across the stage wearing their caps and gowns. Officials said it took several hours to record the ceremony.
Assistant principal Darlene Quinlin announced the names of 102 graduates, as Mater Dei principal Darin Knight handed each graduate their diploma cover.
Knight thanked the families and friends who've supported the graduating seniors.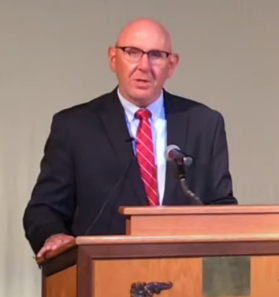 "As principal of Mater Dei High School, I am honored to recognize this outstanding group of young adults," Knight said. "I am confident that the spiritual, social and academic growth all of you have experienced these past four years at Mater Dei will serve you well as the next stages of your life presents itself."
Father Ed Schnur, pastor of St. Wendel and St. Francis Xavier parishes and priest-delegate of the Mater Dei Board of Trustees, offered an opening prayer for the virtual graduation ceremony. Father Ed thanked God for the graduating seniors and for their talents and abilities.
"Thank you for being with them during these past nine weeks of e-learning and their stay-at-home time with their families," Father Ed prayed. "Thank you for bringing peace to their lives and easing their anxieties and worries and disappointments.
"We pray that you will give these graduating seniors direction, purpose and perseverance as they enter the next chapter of their lives. Strengthen their desire to walk in the footsteps of your son, Jesus, as modern day disciples in a world that desperately needs them. … Through the intercession of Mary, the mother of God, may these graduates walk into the future with faith, hope and great love."
Sabrina Henderson, 2019-20 mayor of Mater Dei-ville, welcomed the online audience to the virtual ceremony, and asked supporters "to once again share in this final culminating success of our class as we celebrate the end of our high school journey and look ahead to our futures."
Two seniors were named Class of 2020 Valedictorians – Xavier Reine and Kristen Schneider – for earning perfect 4.0 grade-point-averages.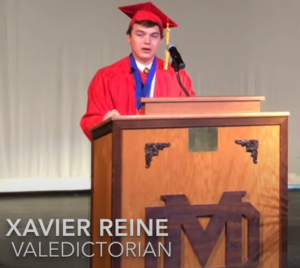 Reine, a son of St. James Parish in Haubstadt, was captain of the Varsity soccer team, president of Spanish Club and historian of the National Honor Society. He said it's been an interesting four years, especially this last year. 
Reine quoted many famous people, television shows and bible verses in his speech, including, "Faith: it does not make things easy, it makes things possible. Let your faith be bigger than your fear because true peace comes from knowing God is in control."
A daughter of Evansville's Resurrection Parish, Schneider served as clerk of Mater Dei-ville, as well as a Student Council member and a cheerleader for four years. Back in March, when students realized senior year was "essentially canceled," Schneider struggled to feel any kind of gratitude. 
"We spent four years working so hard to reach the end, the final celebration, and right before we get there it's pulled out of reach," she said. "But then I started to think, this moment, this disappointment, is only one speck in the journey that is our lives. We still have many, many years ahead of us to make new memories, new friends and soon high school will seem like a faraway dream."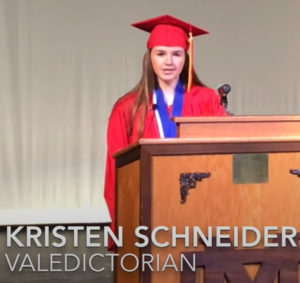 What matters, Schneider said, is the relationships made with the people who shared in the journey with you. 
"If I've learned anything from my time in confinement, it's that we all have an essential role to play in this world. … We all have the chance to do incredible things. Seniors, I am so proud of how far we have come. Remember, never lose your motivation and never stop thanking God for the people in your life. I miss you all."
Administrators hope to celebrate the Class of 2020 in-person with a July 10 Baccalaureate Mass and Project Graduation at Mater Dei.
View Mater Dei's virtual commencement on YouTube at https://youtu.be/5qYi3e4HM30.