Aaron Herrenbruck (Class of 2025)
School, Class: Saint Meinrad Seminary & School of Theology, First Theology
Home Parish: St. Clement Parish, Boonville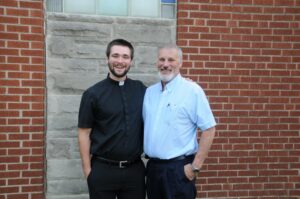 I am one of the lucky ones; God gave me a father that is full of love and cares wholeheartedly. Dad has always provided creatively and genuinely.
I remember when I was younger, my friends and I would all go and play baseball out in the clearing but didn't have any set spots for bases and whatnot. So, my dad went out and had me grab a shovel, and we placed not only bases but also a pitching mound and various other things.
He is a problem solver and finds any and all opportunities to spend time with his family. Whether that be making a nice little baseball field or fixing a problem with our vehicle, he wants to do it with us.
Mom and dad got married May 9, 1987, at Good Shepherd in Evansville. Kyle (my favorite older brother) came first, and then Lindsay (my favorite sister). Lindsay is married to Colin Thompson (my favorite brother-in-law), and they have 1-year-old Conner and are expecting another! Then came me (their favorite), and then, five years later, Alex (my favorite younger brother). Our nephew, Conner Thompson, is my parents' first grandchild, and that baby is just about as spoiled as it gets. My dad loves to spend time with little Conner, but mom is always not far away in case dad dozes off and Conner starts getting into all types of messes.
Growing up was a lot like that for me, constantly having something to work on outside with dad and hoping he would fall asleep on the chair outside so that I could get into my own trouble! Sort of like when Jesus gets lost, and Joseph and Mary have to search everywhere for Jesus, except they wouldn't find me teaching anyone anything good!
Dad taught me what gentle manhood looks like and what it means to love as a man. Just like Joseph taught and raised Jesus, my dad instilled in me many values. However, I imagine Jesus wasn't as hard-headed as me and learned a lot quicker. But, this gentle fatherly love that my dad showed me is exactly what I hope to imitate when I become a priest, as there is a time to be rigid and tough, but when it comes to mercy, we must love hard and teach softly.
Parents' Names

Keith and Christy Herrenbruck

Siblings (spouses)

Kyle Herrenbruck

Lindsay (Colin) Thompson

Alex Herrenbruck

Schools attended

Chandler Elementary, Castle North Middle, Castle High School, Purdue University, Saint Meinrad

Snack Food of Choice

Reese's, pretzels, Peanut M&Ms; Basically, I like everything!

Favorite Movie

"Super Troopers"

Bible Verse 

John 17: 17-23

Favorite Sport to play

Basketball, but I love to play pretty much all sports.

Preferred Set of Mysteries of the Rosary

Joyful Mysteries

Patron or Favorite Saint

Saint Padre Pio! He was a humble man that had grit. As I continue to be formed for priesthood, I look to him as a shining example.

YouTube Channel or Podcast you most frequent

Since the Olympics began this past summer, I followed NBC Sports to stay updated on everything in Tokyo!

Favorite Part of Being in Seminary

The wonderful opportunity to discern and be in a unique environment that provides my every need so that I have ample time to pray and talk with God about what He wants from my life.