Chase Riecker (Class of 2027)
School, Class: Bishop Simon Bruté College Seminary & Marian University, Junior
Home Parish: St. Isidore Parish, Celestine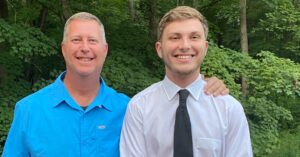 Fatherhood, for me, is something of immense importance that is overlooked too often. Growing up, I was closer to my mother and was not nearly as close with my father. However, I think part of growing up, especially as a man, is realizing how integral a father is in molding the person you have become. This is something that I wish I would have realized when I was younger, mostly that a true father not only provides but also brings true discipline and guidance. All of these qualities fit my dad, and I have him to thank for many of my good attributes.
My family is composed of my parents, Bryan and Gina, along with my five siblings. Going from oldest to youngest is my older sister Jasmine, my older brother Cameron, my younger brother Ty, my younger sister Cassidy, and my youngest brother Destin. On Oct. 24, 1999, I was born as the third child. I always remember my brothers and me roughhousing, and we were tremendously competitive in everything we did. I also remember going to Mass every Sunday and how persistent my parents had to be to get us there on time with no hiccups. 
My dad is an exceptionally motivated man who prefers order but also likes to be around family and have fun. If I had to describe him in three words they would be: intense, driven and persistent. As I grew up, I noticed these qualities because of the long and arduous hours he would work as a chiropractor. Despite this, he still found time for his children, and I have many fond memories growing up. 
We read in St Matthews's gospel that St. Joseph was a righteous man who faithfully lived according to his calling. He is often given the title of Terror of Demons and Most Chaste Spouse. I often go to St. Joseph in prayer when I need to be strengthened in fortitude and courage. I think there is no better example amongst the saints, and praying the Joyful mysteries helps recall his heroic virtue. 
A connection I see between my dad and St. Joseph is they both have a sense of duty as a father. St Joseph went without complaint on many taxing journeys and often had to uproot his life in order to do so. My dad has done numerous things similar to this and has been more than willing to change something in his life for the benefit of the family. This is certainly one of the main aspects of fatherhood that helped me discern seminary. 
Part of growing up, especially as a man, is realizing how integral a father is in molding the person you have become. If I did not have a dad who imbued me with certain immutable principles, I do not believe I would be discerning priesthood and would not be who I am now.
| | |
| --- | --- |
| Parents' Names | Bryan and Gina Riecker |
| Siblings | Jasmine (Nathan) Clark, Cameron (engaged to Jessica Steinke), Ty, Cassidy and Destin |
| Schools attended | Homeschooled until 7th grade, Northeast Dubois Middle School, Northeast Dubois High school |
| Snack Food of Choice | Scrambled Eggs |
| Favorite Movie | "The Lord of The Rings" |
| Bible Verse | John 10:11 |
| Favorite Sport to play | Basketball |
| Preferred Set of Mysteries of the Rosary | Sorrowful |
| Patron or Favorite Saint | Saint Francis de Sales due to his Eucharistic piety and devotion to converting sinners. |
| YouTube Channel or Podcast you most frequent | Sensus Fidelium |
| Favorite Part of Being in Seminary | Having Eucharistic adoration available every day. |