Jacob Schneider (Class of 2028)
School, Class: Bishop Simon Bruté College Seminary & Marian University, Sophomore
Home Parish: Corpus Christi Parish, Evansville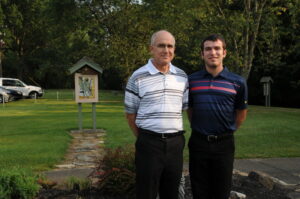 When my father was right out of high school in 1979, he was enlisted in the Navy, where he would serve for the next seven years. In that time, he grew into a man of diligence, discipline and determination. Upon leaving the Navy, he would eventually marry my mother and start a family. And those three values, which were founded in his own Catholic household and reinforced in the military, would be sowed once more in the next generation.
On Aug. 30, 2001, I was born to Tom and Karen Schneider at St. Mary's Hospital (now Ascension St. Vincent Evansville Hospital). I am the second born of three children. I have an older brother, Cooper, and a younger sister, Anna.
As I grew up, I began to notice in my father qualities such as courage and temperance. Along with that, I began to notice how those virtues are ones I have found in myself.
Some of the titles we bestow St. Joseph are "Lover of Poverty" and "Protector of Holy Church." Because I saw fatherhood lived out in my dad, I discerned seminary in order to grow as a spiritual father for the kingdom of God here on Earth. When my father graduated high school, he would go straight to the Navy. Like all diligent fathers, he made sure the values that served as his foundation would be a foundation for his children as well, no matter what vocation they feel God calling them to.
| | |
| --- | --- |
| Parents' Names | Thomas and Karen Schneider |
| Siblings | Cooper and Anna |
| Schools attended | Corpus Christi School, Mater Dei High School, University of Southern Indiana (Freshman) |
| Snack Food of Choice | Bagel with coffee |
| Favorite Movie | "The Lord of the Rings: The Return of the King" |
| Preferred Set of Mysteries of the Rosary | The Luminous Mysteries |
| Patron or Favorite Saint | St. George because he is a model of zeal, a virtue that I found lacking in myself when I was younger. |
| YouTube Channel or Podcast you most frequent | Kings and Generals (YouTube Channel and Podcast) |
| Favorite Part of Being in Seminary | When I enter seminary at Brute, I'm looking forward to simply being in fraternity with other young men who are discerning the call of priesthood/religious life. |