Nick Biever (Class of 2025)
School, Class: Saint Meinrad Seminary & School of Theology, First Theology
Home Parish: Annunciation Parish, Evansville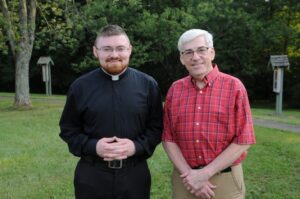 In honor of the Year of St. Joseph, it is fitting that we emphasize the importance of fatherhood. During the Litany of St. Joseph, we learn that St. Joseph's titles – Terror of Demons, Head of the Holy Family and Spouse of the Mother of God, reflects much of what is good within fatherhood while revealing its importance in all vocations – as protector and leader of the family.
On May 16, I was born to Richard and Mary Biever in Evansville. My sister, Liz, is married to Michael Adler of Haubstadt. They have three sons: Leo, Ignatius and Martin. Our parents raised us in the Evansville area, going to St. Ben's, St. John in Daylight, Holy Spirit and Christ the King churches in Evansville. 
As I grew up, I noticed that my family carried quiet qualities of loyalty, kindness and love. Although our family had our share of challenges growing up, such qualities mirror the Holy Family in many ways.
When I go to St. Joseph, I usually ask for his protection and intercession when my priestly and pastoral role needs me to be a better father. The priestly role allows us to be spiritual guardians as we silently aim parishioners toward heaven. St. Joseph, a silent guardian, protects his spouse and son with a purity of heart and impenetrable patience. Regardless of vocation to priestly life, married life, single life or religious life, St. Joseph is an excellent saint to draw on for assistance throughout life.
Because I saw the beauty of fatherhood lived out in my dad, I discerned toward a priestly vocation. With eyes aimed toward heaven, my dad silently cries out in his faith as he takes care of his family. Like my dad and St. Joseph, it is time that I do the same for our diocese's parish families.
St. Joseph, Terror of Demons, Head of the Holy Family, Spouse to the Mother of God, pray for us.
Parents' Names

Richard and Mary Biever

Sibling (and their spouse)

Liz (Michael) Adler

Schools attended

Homeschool, University of Southern Indiana, Saint Meinrad Seminary

Snack Food of Choice

Ski, pretzels and steak

Favorite Movie

"The Lord of the Rings"

Bible Verse

1 Peter 5:8-9

Favorite Sport to Play

Ultimate Frisbee and Warzone

Preferred Set of Mysteries of the Rosary

Sorrowful Mysteries – Intense prayerful experience

Joyful Mysteries – Everyday re-energization

Patron or Favorite Saint

St. Simon Stock is my confirmation saint because of my devotion with the brown scapular. St. Joseph, St. John Vianney and St. Therese of Liseux have become my closest saints during my priestly discernment.  

YouTube Channel or Podcast you most frequent

Bishop Barron's podcast, Pints with Aquinas, and Sensus Fidelium

Favorite Part of Being in Seminary

Learn the skills necessary to be a priest

Form deeper levels of love with the Sacraments

Fraternity in studying with 100+ seminarians all with the same goal