By Phillip Rogier (Class of 2024)
School, Class: Saint Meinrad Seminary & School of Theology, Second Theology
Home parish: Christ the King Parish, Ferdinand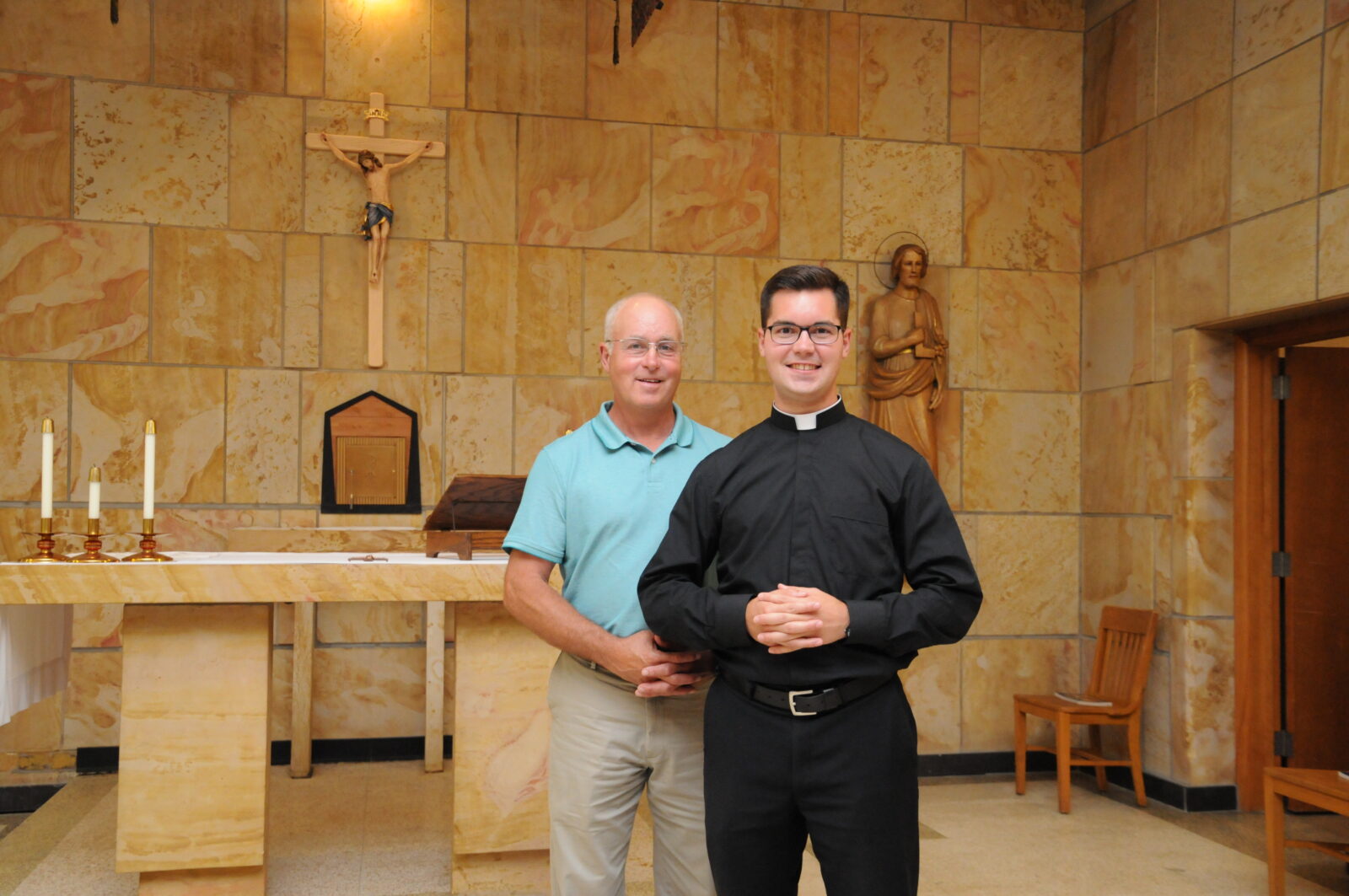 The beauty of fatherhood reveals itself in the sacrifice and self-giving from father to son. Dads are meant to give themselves fully to their children and to their wife. My father has been, to me, a constant example of love, especially in the face of tragedy.
On April 12, 1996, I was born to David and Ann (Harpenau) Rogier. My sister Elizabeth and my brother Marc preceded me. To answer the most common questions quickly, here are the basics. Elizabeth is an immigration attorney in Louisville, Kentucky, and Marc is an ER nurse in Jasper, Indiana. My mother was a special needs teacher at Ferdinand Elementary before she retired. My father is a superintendent for Krempp Lumber Construction. 
I would describe my dad as dependable, wise and persevering. These traits have done well to guide our family. When my brother received a bone marrow transplant this past summer (please pray for him) my father dropped everything to stay with him in the hospital and continues to drive him to doctor appointments in Indianapolis. For my mother's sake and everyone else, I am deeply grateful to have such a strong father.
When I imagine what it means to be a great father, I think of St. Joseph, Foster Father of the Son of God. Joseph cared for Mary and Jesus, working quietly and diligently. Yet, when tragedy struck in the form of the Massacre of the Innocents, St. Joseph took his family to Egypt to protect them. I see this strength of character and perseverance in my own father. 
A call to the priesthood is a call to spiritual fatherhood. My father's example of sacrificing love for his family has helped me to become a man willing and ready to give of myself for my family, the Church. As I witness my father care and pray constantly for my brother, I learn what it means to be a noble father: love, especially in the face of tragedy. 
Parents' names: David and Ann Rogier
Siblings (and spouses): Elizabeth Hobson (Adam), Marc Rogier (Abby)
Schools attended: Ferdinand Elementary, Cedar Crest Intermediate, Forest Park Jr./Sr. High School (2015), Bishop Simon Bruté College Seminary/ Marian University (2019), St. Meinrad Seminary and School of Theology
Snack Food of Choice: Chex Mix
Favorite Movie: "The Bells of St. Mary's"
Bible Verse: Matthew 13:45-46
Favorite Sport to Play: Soccer at Seminary
Preferred Set of Mysteries of the Rosary: Joyful Mysteries
Patron or Favorite Saint: My patron is St. Philip Neri because of his radical Gospel love lived out through joy, humility and humor. Other Saints: Josemaria Escriva, Ambrose and Benedict.
YouTube Channel or Podcast you most frequent: Bishop Barron's Sermons and Brian Holdsworth
Favorite Part of Being in Seminary: The pursuit of holiness