By Tim Lilley
The Message editor
Marian Educational Outreach has a new executive director. In November, Evansville native Emily Schnapf moved from a special-education/resource classroom at St. John the Baptist School in Newburgh to MEO.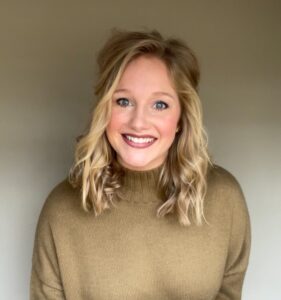 "The hardest part of leaving my classroom was saying goodbye to my students and my coworkers," Schnapf said in an email interview. "I am a strong believer that all children can learn no matter what obstacles they are faced with, and I will never give up on them. Knowing that I am serving our Diocese in a much larger manner is fulfilling and a true blessing. I look forward to carrying MEO's mission to help serve students with special needs."
Schnapf grew up on Evansville's west side and graduated from Mater Dei High School. She earned undergraduate degrees in Special Education and Elementary Education from the University of Southern Indiana, and a master's degree in Special Education from Indiana Wesleyan University.
She began her teaching career as a special-education/resource teacher at Annunciation School's Christ the King Campus in Evansville, serving three years there. She has spent the past four years as a special-education/resource teacher at St. John the Baptist.
"I've always had big career goals for myself to be a leader in the world of special education," Schnapf said. "I have a deep passion for students who learn differently than their peers. I believe the differences in how students learn make teaching a constant work in progress and I love watching that unfold."
Schnapf is clearly excited to step into a role that enables her to make an impact in classrooms across our 12 counties. She said, "MEO is able to support students and their teachers through grants, professional development and resources for the classrooms. My short term goal for our organization is to be more hands-on with learning that is taking place in the Resource classrooms. I am looking forward to being able to visit the teachers and share the amazing things that are taking place in our Resource programs."
For now, COVID-19 will restrict what Schnapf can do in that regard, but her outlook on these challenging times is upbeat – and refreshing. She said, "I truly believe that the struggles we have been facing because of COVID-19 are going to shape us into being better people in the future.
"I think that these tough times have allowed our minds and fast-paced lives to slow down; and I think that, in itself, is a gift. I believe that schools in our diocese have done an outstanding job at making ends meet, and keeping the children healthy and safe while they are in school. When the day comes that we can hug our students and give them good morning high fives, we can rejoice and not take for granted all the little things that God has provided."  
Reading her thoughts on the benefits of incorporating special-education/resource curricula in diocesan Catholic schools is significant. "I think it is important to remember that, by opening the doors of Catholic Schools to students with special needs, we are growing and learning in so many ways," Schnapf said. "As students watch their peers learn in different ways, they develop so much empathy and they open their hearts in a very forgiving way. Watching the students interact is always such a rewarding process. Even though accepting differences in others is not always easy, I am constantly reminded how rewarding this acceptance is."
She added, "Watching these students grow is one of the most rewarding processes in life, it just takes time and patience to slow down long enough to see what is actually happening. As a parent, former teacher, and now Director for MEO, I am beyond thrilled to be serving our community and students in a whole new capacity. I love learning and growing as an individual and I can not wait to watch others learn and grow alongside me as we carry on an amazing legacy known at Marian Educational Outreach."
Emily is married to Stephen Schnapf. They have a son, Maverick, who is 1. They are members of St. Benedict Cathedral Parish in Evansville.
For more information on MEO, its work and how you can help, visit https://www.meoforkids.org/.