By Megan Erbacher
The Message assistant editor
Reitz Memorial High School senior Ethan Meunier recently learned his undergraduate college tuition will be paid in full because he earned a Lilly Endowment Community Scholarship.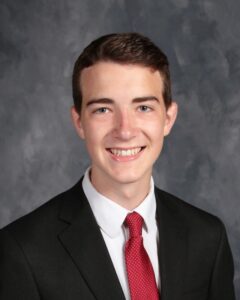 The Reitz Memorial community announced the news in a press release on April 28. Meunier was named a Lilly Endowment Community Scholarship recipient by the Vanderburgh County Community Foundation for the 2019-2020 school year.
The Lilly Endowment Community Scholarships provide full-tuition, required fees and an annual stipend of up to $900 for required books and equipment for four years of full-time undergraduate study at an accredited public or private nonprofit Indiana college or university. The scholarships are awarded based on academic merit and a selective interview process.
Meunier joins fellow Memorial senior Elizabeth Broshears in this "prestigious and incredibly competitive award."
Meunier has pursued excellence and exemplified service in multiple arenas while at Memorial, educators said. His accomplishments include serving as the president of Memorial's Key Club, serving on Youth Resources' Teen Advisory Council, as a Teenpower youth staff member, a member of Tiger Ambassadors, Link Crew and National Honor Society.
Athletically, Meunier competes on Memorial's track and cross country teams, and he plays intramural basketball. He also volunteers to help Reitz Memorial's feeder school track and field program, and he is a mentor to the high school's junior varsity runners.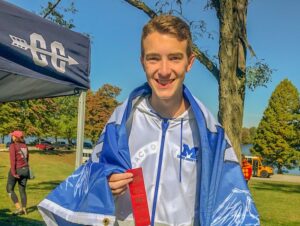 Meunier is an active parishioner of St. John the Baptist Parish in Newburgh, where he serves as a Eucharistic Minister there and also at Reitz Memorial.
Reitz Memorial Principal Sally Sternberg said the school community is so proud of Meunier. Sternberg said he has "continually challenged and applied himself to the fullest extent possible in all facets of school life.
"His academic tenacity has allowed him to reach this pinnacle of achievement, being named a Lily Scholar," Sternberg said. "And while Ethan is an exceptional student, what is even more outstanding is how he lives out the Catholic faith through his volunteer efforts, service to church and others, and his upstanding character. We cannot wait to see where this next part of his journey takes him and how he in turn gives back to the world."
In March, Meunier was named Youth Resources Youth of the Month after being nominated by some friends, who described him as a team player on and off the track and praised him for his selfless, positive attitude.
Meunier plans to attend the University of Notre Dame, and his parents "love the fact he is continuing his education at a Catholic university."
Memorial officials are "incredibly proud" to have graduated more Lilly Scholarship recipients in the last four years than any other high school in Vanderburgh County, according to the news release.
Superintendent of Catholic Schools Dr. Daryl Hagan congratulated Meunier and said everyone is proud of his accomplishment.
"The scholarship is designed to help raise the level of educational attainment in Indiana," Hagan said. "Therefore, I am not surprised that five students from Reitz Memorial High School have been recognized over the past four years with this scholarship, given that Memorial continually raises the level of secondary education for their students while keeping their core values of creating disciples of Christ."
At the December 2019 announcement for Elizabeth Broshears, Sidney Hardgrave, Vanderburgh Community Foundation Regional Director of Community Engagement and Impact, explained the scholarship is funded by an endowment through the family of Eli Lilly. The program started in 1998, and at least one scholarship is awarded annually in each Indiana County, with Vanderburgh giving three.
Since 1998, Hardgrave said 4,769 scholarships have been awarded throughout Indiana at a value of more than $405 million.
"College is increasingly expensive," she said. "And most of the scholarships that are available to seniors are not annual, so every year they scramble to find some money to support their next year of schooling. Paying full tuition for four years opens so many doors for students."