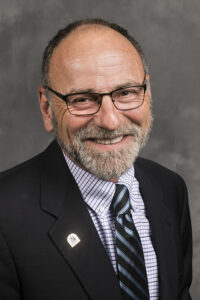 MEINRAD, INDIANA – The late Michael Ziemianski, formerly of Floyds Knobs, Indiana, was posthumously awarded the Distinguished Alumnus Award on Aug. 2 during the annual Saint Meinrad Alumni Reunion.
Ziemianski had a distinguished career at Saint Meinrad. A 1987 graduate of Saint Meinrad College, he worked at Mercy Academy in Louisville, Kentucky, providing retreat experiences for students. In 1989, he returned to Saint Meinrad and began work in the Development Office.
Except for an 18-month stint as director of development at the Kentucky Center for the Arts, Ziemianski was devoted to Saint Meinrad until his unexpected death in June 2019.
He served in nearly every fundraising role at Saint Meinrad – director of annual giving, director of capital support programs, director of development and, finally, vice president for development for 11 years.
His dedication and commitment showed up outside his work as well. In 1997, he began volunteering for the Kentucky Derby Festival – the two weeks of events that lead up to the famous horse race. "The greatest weeks in Louisville are around Derby time, and I thought I'd do my part to make it happen," he told a reporter in 2001.
His volunteer work included selling Pegasus pins, helping with ESPN's B3 Games and X-Trials, and chauffeuring special guests. In 2003, Ziemianski was named the Volunteer of the Year for the festival. He also was a member of the festival's board of directors, and he was to serve as chair of the 2020 festival.
He was also a generous volunteer for the Council for Advancement and Support of Education. In 2007, he received the Distinguished Service Award for his dedicated service in CASE's District V. He had served for a number of years on the board of directors, including as district treasurer and board chair. Shortly after his death, CASE V renamed that award as the Mike Ziemianski Distinguished Service Award.
A member of Cathedral of the Assumption Parish in Louisville, Ziemianski served for more than 20 years as an extraordinary minister of Holy Communion. In addition, he was a member of the Bishop Flaget Society; served on the organizing committee for "Let's Dance Louisville," an annual fundraising event for the Feed My Neighbor program; and could be found tending bar at special events.
Ziemianski is the 31st alumnus to receive the Distinguished Alumnus Award. Given by the Saint Meinrad Alumni Association, the award was begun in 1990 to honor alumni who exemplify the Gospel values and have provided exemplary service in their lives or professions. The association's board of directors reviews nominations for the award annually and makes the recommendations.