Special to The Message
Benedictine Brother Kolbe Wolniakowski professed solemn vows as a Benedictine monk of Saint Meinrad Archabbey in an Aug. 15 ceremony in the Archabbey Church at St. Meinrad.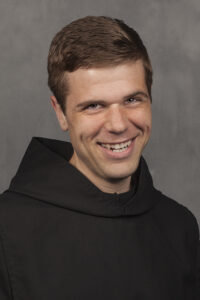 Brother Kolbe, 32, is a native of Lansing, Michigan. He is studying for the priesthood at Saint Meinrad Seminary and School of Theology. In addition, he works in Saint Meinrad's Business Office and is the assistant master of ceremonies.
Previously, he worked for the State of Michigan as an insurance complaint analyst in the Department of Insurance and Financial Services.
After graduating from Pewamo-Westphalia High School in Westphalia, Michigan, he earned an associate degree from Lansing Community College in 2009 and a bachelor's degree in business administration from Northwood University in 2010.
He was a member of St. Joseph Parish in Pewamo, Michigan, where he volunteered as a faith formation teacher.
In professing solemn vows of obedience, fidelity to the monastic way of life and stability in the community at Saint Meinrad, he is a full and permanent member of the Benedictine community.