By Megan Erbacher
The Message assistant editor
Three Catholic school teachers were among recent recipients of grants from the Evansville-based Mother Bear Charitable Foundation to enhance their classrooms with new resources and programs to help students succeed emotionally and academically.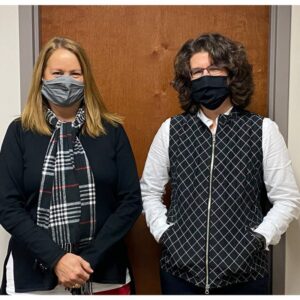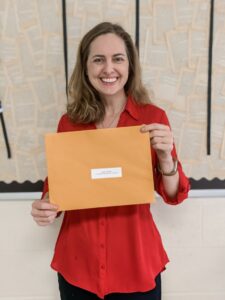 Lisa McCall and Christan Shockley, two teachers at Holy Redeemer School, and Maria Janney from St. John the Baptist Catholic School in Newburgh were awarded grants for their classrooms. The educators recently shared their good news with The Message and their plans for the grant funding.
"There is always new research and interesting initiatives developing in education," Shockley said. "Catholic schools generally do not have the funding to test out new trends in education. Mother Bear (Charitable Foundation) allows teachers and staff to dream big and provide the best support available for their students."
McCall and Shockley received grants totaling $7,500. McCall received $6,899 to build a welcoming environment for students in kindergarten through second grades. Shockley was given $601 for the Resource Room at Holy Redeemer. Janney, St. John's high-ability language arts teacher for kindergarten through eighth grades and the high-ability program coordinator, received a $7,289 grant for her high-ability language arts classroom.
Mother Bear Charitable Foundation's mission is to "enrich the lives of exceptional children in Vanderburgh and Warrick counties." Grants are awarded to individuals and 501(c) 3 organizations serving children in both inclusive and specialized environments in Vanderburgh and Warrick counties, and grant amounts can range from $500 to $50,000.
As a first grade teacher, McCall and Holy Redeemer's kindergarten through second-grade teachers plan to use the grant to purchase alternate classroom seating, like Zuma rockers and balance balls, for kindergarten through second-grade classrooms. McCall explained that flexible seating allows children more movement during the day while keeping them at or near their desks.
Shockley, a counselor and resource teacher at Holy Redeemer, will use her grant to create a more calming environment for the resource room by purchasing items including a tabletop waterfall, a weighted blanket, a speaker to play calming music, a rock-or-roll stool, and art supplies. Shockley wants the resource room to be a place where students can decompress from a day full of sensory input.
Janney plans to use her grant for her high-ability language arts classroom at St. John. This is her seventh year to receive a Mother Bear grant to benefit the classroom, which she said focuses on a high-ability program for unique learners.
Janney plans to add new books to the classroom library, ranging from picture books to high school-level literature; publishing kits for students' writings; props and costumes for class performances of Shakespeare and mythology; and other classroom resources. The funds will also cover study materials and contest fees for students to participate in the National Mythology Exam and the National Etymology Exam. Additional portions of the grant will be used for a classroom transformation, Janney said, to create an immersive storybook atmosphere to spark student creativity and engagement.
This is McCall's first time receiving a grant from the Mother Bear Charitable Foundation, while Shockley and Janney have received grants in the past. All are grateful to the Mother Bear Foundation for the grants.
"It is always exciting when so many generous people in the community come together for the benefit of the students and their families," Shockley said.