By Megan Erbacher
The Message assistant editor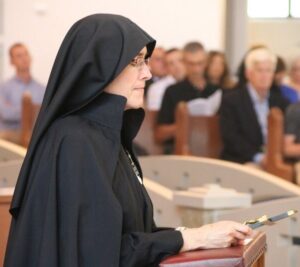 Passionist Mother Superior John Mary, who grew up in the Diocese of Evansville, recently celebrated her Silver Jubilee with the Passionist Nuns of St. Joseph Monastery in Whitesville, Kentucky.
In early September, Diocese of Evansville priest Father Jeff Read, Mother John Mary's brother, celebrated a Mass of Thanksgiving to honor her 25th anniversary of Passionist vows.  
Father Jeff is pastor of Holy Family Parish in Jasper. Father Jason Gries, pastor of Holy Redeemer Parish in Evansville, concelebrated Mass. Diocese of Owensboro Bishop William Francis Medley was also present.
The theme of Mother John Mary's celebration was Cherish the Flame of His Love because that is what a Passionist Nun is called to do. The Passionist Nuns of St. Joseph Monastery are cloistered, contemplative nuns located in the Diocese of Owensboro, Kentucky.
Mother John Mary said words cannot express her gratitude to God for the past 25 years.
"I want to love Him so much, and I am profoundly grateful to live this Passionist monastic life with these fantastic women who are seeking to love the Lord with all their beings," she said. "It is quite humbling at times, as the superior, to be privy to the intimate and honest sharings of the nuns regarding their love for the Lord …  Their desire to be all He created them to be, inspires me to strive to do the same."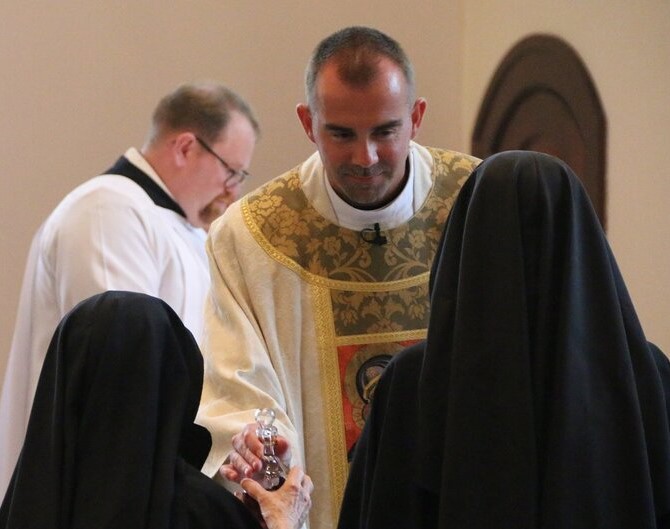 Father Jeff said it was "no doubt an honor" to offer the Mass for his sister, her community and with his brother priests. He said it was a reminder of all the family visits made since she joined the community.
Born Teresa Read, to Bill and Bernadine Read, Mother John Mary is the eldest of five children. Father Jeff is the fourth child in the family. The family lived in Elberfeld, Indiana, and were parishioners of St James in Haubstadt, then St John the Evangelist in Daylight. Mother John Mary attended St James School in Haubstadt, Tecumseh Jr.-Sr. High School in Lynnville and the University of Southern Indiana.
Bill and Bernadine eventually moved to Evansville and are parishioners of Holy Redeemer Parish.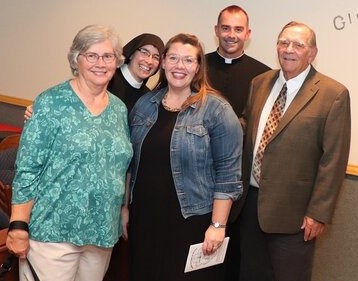 While attending St James, Mother John Mary said she was fortunate to have Benedictine Sisters of Ferdinand as teachers. 
"The witness of the Sisters planted within me the first desire to be a religious sister and consecrate my life to God," she said.
As a teen, however, Mother John Mary pushed that desire to the back of her heart and sought to find fulfillment in friends, parties, sports, boys, beauty … all that the "world" told her would bring happiness. 
But, she knew there was more to life.
Many providential opportunities brought her face-to-face again with the desire to be consecrated to God, including the Sacrament of Confession, and a pilgrimage to EWTN in Birmingham, Alabama, where she met the Poor Clares of Perpetual Adoration.
Mother John Mary decided to quit work and college to visit monasteries and discern where God was calling her. After a visit to the Passionist Nuns and a live-in arrangement in the monastery, Mother John Mary couldn't get the sisters or monastic life out of her mind and heart.
Mother John Mary entered the monastery in August 1995, two days before her 23rd birthday.
"Looking back, I can see that all along the Lord had placed a contemplative vocation in my heart."
In hindsight, Father Jeff believes the prayers of his sister and her community certainly helped him discern his path to the priesthood.
"Much of her good counsel was received before I began thinking about the priesthood," he said. "At a younger age, she simply helped me to see the necessity to live a Christian life most especially through the fullness of our Catholic Faith."
Mother John Mary thinks the monastery is one of the best-kept secrets in the Evansville and Owensboro dioceses. She hopes others will learn more by visiting www.passionistnuns.org.