The Message assistant editor
Every other Thursday, Amy Miller loads up her two young children – Catherine, 3, and Benedict, 1 – into her SUV and heads to the "Ronnie Mac House" on Washington Avenue in Evansville. That's what the Miller family, whose patriarch, Matt, serves as the director of worship for the Diocese of Evansville, affectionately calls the Ronald McDonald House. Catherine and Benedict are known as the charity's youngest volunteers.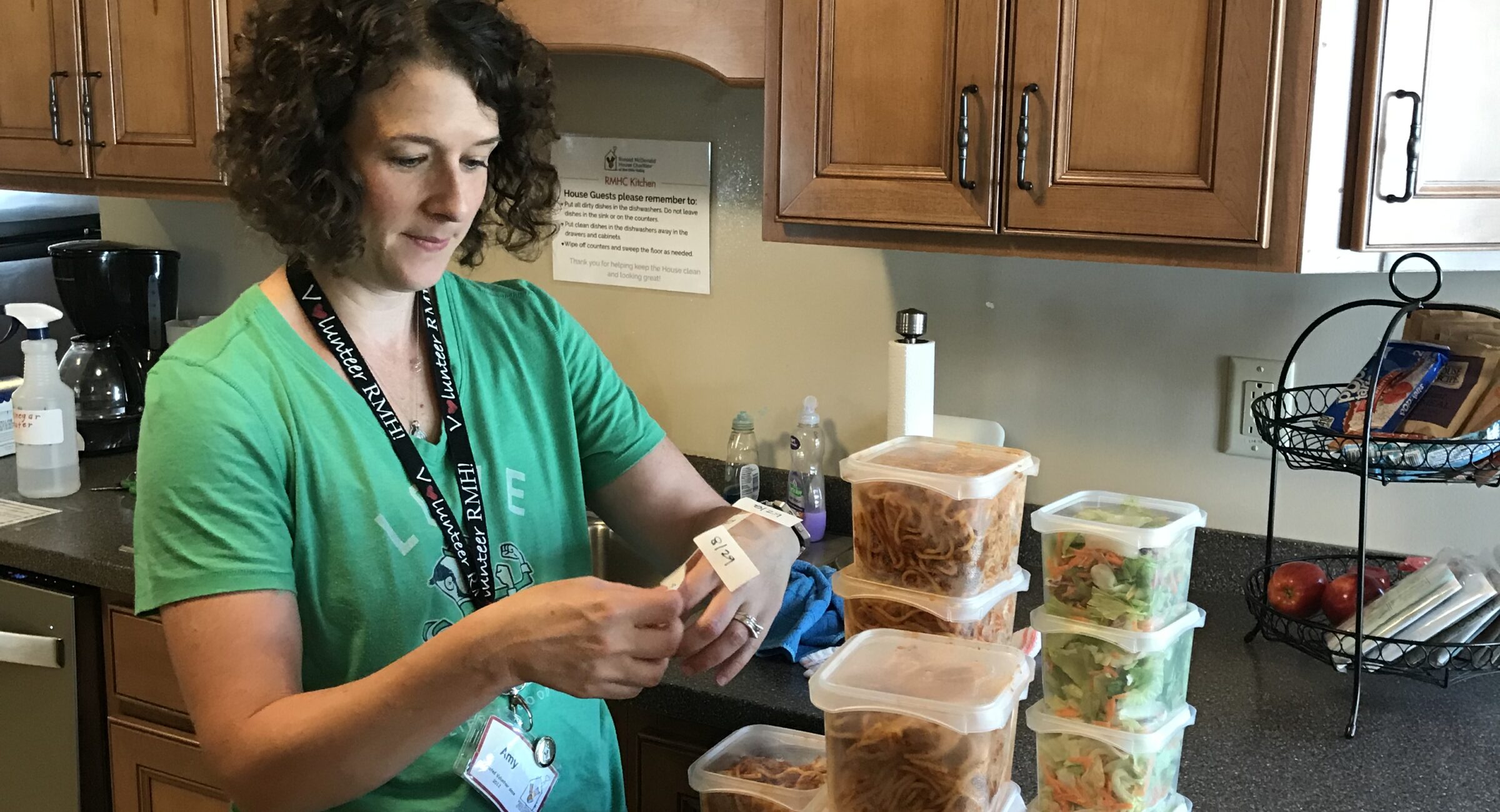 In October, Ronald McDonald House Charities (RMHC) of the Ohio Valley will unveil a second house location. The new $3.5 million Ronald McDonald House is located within the Deaconess Gateway Medical Complex, at 4133 Gateway Blvd., Suite 250, in Newburgh. The site is also known as Medical Office Building No. 5.
Carol Pace said the new house will need volunteers like the Miller family and hundreds of others who give their time to help the charity run. Pace will serve as guest services manager at the new RMH, as well as program volunteer manager for both the new house and the Washington Avenue house.
Julia Baumeyer, who serves as communications and events specialist for RMHC of the Ohio Valley, said the local chapter was established around 1989 and functioned as a grant-awarding operation until around 2010 when the first house was built on Washington Avenue on the campus of then-St. Mary's Hospital, now known as Ascension St. Vincent Evansville.
About three years later, the Women's Hospital continued to get busier and many families wanted to stay close to their babies and opted out of staying at the Washington Avenue House, Baumeyer explained. So an abandoned physicians suite was renovated for family use, but it wasn't quite the same, Baumeyer said.
"Our tagline is: 'Keeping families close,'" she said. "These families get to be closer to each other during stressful times. Our goal is to keep families together; and ultimately, our hope is it promotes healing and it promotes togetherness for the whole family."
The plan is to open the second house Oct. 15, Baumeyer said, which is the 45th anniversary of the opening of the very first RMH in Philadelphia.
There's a need to serve more families, Pace said.
"We know that (suite) is full nearly all the time; and even when it is full and families have an opportunity to stay here (Washington Avenue House), they still opt to sleep in the hallway or their car because they want to stay close to their baby," Pace said. "For us that's heartbreaking. Our mission is that you will have a nice, home-like place to be close to your family."
Baumeyer considers the charity an extension of the family-centered care patients receive at the hospital.
"One of the things I think goes hand-in-hand with the charity and healthcare in our community that is a common theme or common goal is family-centered care, especially when we're talking about pediatric patients because their voice is their parent or guardian," Baumeyer said. "We want to make sure the family is also well cared for in addition to the patient."
The new RMH Gateway will have 16 bedrooms; the current Washington Avenue House has 10 bedrooms.
Other amenities at the new Gateway House include:
Three kitchens
Laundry facilities
Food pantry
Cozy family room
Multi-purpose room with an interactive wall
Sensory room
Pace explained the interactive wall allows kids to draw on a screen and then their creations come to life as they are projected on the wall, and the sensory room will help kids on the autism spectrum.
"So they can get what they need and have a soothing space around them, almost like a warm cuddle," Pace said. "Also, it gives that same release of anxiety for parents, because those parents are going through a lot."
Volunteers are 'heart of home'
For Amy and Matt Miller, volunteering with RMHC has been a way to honor the memory of their son, Isaac.
On Nov. 4, 2010, Isaac was diagnosed with non-Hodgkin's Lymphoma. It was a "huge shock" to Amy and Matt. While Isaac underwent treatment at Riley Hospital for Children at IU Health in Indianapolis, the RMH was "such an amazing gift" to them.
"The house there not only provided us with meals and a place to get away from the stresses of the hospital, it allowed us to do those things without being far away from Isaac during an incredibly scary time for all of us," Amy said.
Shortly after Isaac's passing on April 27, 2012, Amy searched for ways to honor his memory. She has volunteered regularly at RMHC since June 2012.
"To be able to give some of those gifts back to the families that use the Ronald McDonald House in Evansville and return some of the kindness we were shown when Isaac was sick is special to me," she said. "Additionally, I made many friends at the house that I'm still close with, even almost 10 years after Isaac was a patient at Riley."
Another faithful volunteer, Joannie Beckwith, was close to retirement with about 50 years as a nurse at St. Mary's when she attended a meeting about RMHC and decided to volunteer. That was in 2010, and now she volunteers weekly.
Her husband, Ray, and other family members also volunteer in a variety of ways and have served on the board.
"I have a listening ear and can kind of understand what parents are talking about …with me being a nurse all those years and working in so many critical care areas, I understand and can help listen to the families," she said. "It was just kind of the perfect fit for me; honestly it could not have come at a better time."
The Millers and Beckwiths are members of St. Benedict Cathedral Parish.
"Living my faith through action in the community is at the heart of why I volunteer," Amy Miller said. "From a standpoint of the call to stewardship, I'm giving of my time and talents every time I volunteer. As Catholics, we're also called to perform acts of mercy; and I certainly view volunteering for the Ronald McDonald House as a spiritual work of mercy."
Beckwith said she strives to see Christ through people who have a need because it reminds her of a prayer she always said with her nurses at St. Mary's: "Help me to see you, Christ, through our patients."
Pace said many volunteers feel a renewed sense of purpose through RMHC, but the truth is the volunteers mean everything to the charity.
"We could not operate this charity without them," she said. "They are essential to what we do every single day, and they put everything into it when they're here."
"It may sound cliché, but it really is true, (volunteers) are the heart of the home," Baumeyer said. "They are that listening ear, the point of reason and warm smile when you need it for families."
Volunteer opportunities include:
Front desk
Hospitality
Hospitality a la Carte
Meals of Love
Service projects
For more information on volunteering, call 812-402-7642, Ext. 5, or visit rmhcohiovalley.org/volunteer.