By The Message staff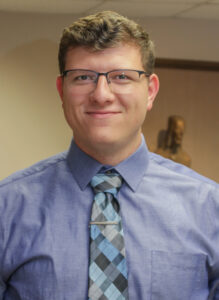 Nicholas Soellner has joined the Diocese of Evansville Office of Catechesis as Program Manager. He fills a vacancy created by the 2022 retirement of Mary Kaye Falcony.
Joel Padgett, Director of the Office of Catechesis, said, "I am overjoyed that Nicholas Soellner has joined our Diocesan Office of Catechesis. With a wealth of experience in teaching middle school and high school theology in our Catholic schools, as well as having previously assisted the Office of Catechesis in the formation of catechists, I believe that Nicholas will be a great blessing for our entire diocese."
A native of Jasper, Nicholas is a graduate of Marian University with a double major in Psychology and Theology. He earned a master's degree in Systematic Theology and Ethics in 2015 from Marquette University.
He taught theology at St. John the Baptist School in Newburgh from 2015 to 2017, and he joins the Office of Catechesis from Mater Dei High School, where he has taught theology since 2018.
Nicholas said, "I am humbled and very grateful for the opportunity to join a group of wonderful people serving at the Catholic Center. Thank you to all of my mentors and colleagues, who have helped me in my formation and professional development over the years.  Please keep my family in your prayers as I transition into this new chapter in life."
Nicholas and his wife Amy have four sons – Michael, August, Jonah and Ezra. They are members of St. John the Evangelist Parish in Daylight.