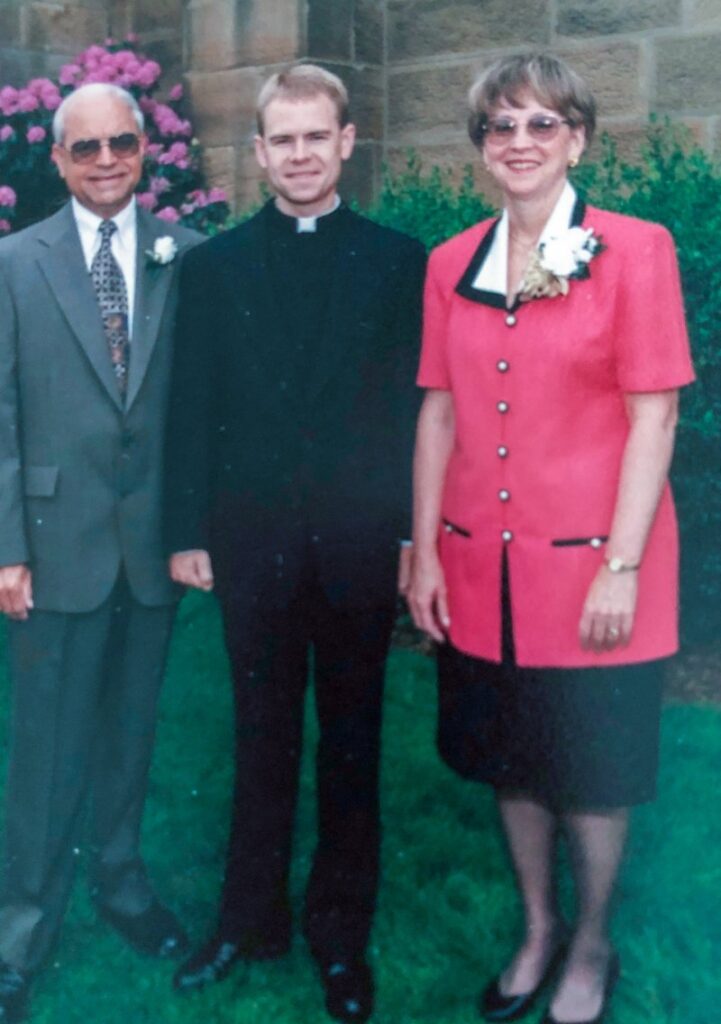 Father Tony Ernst's humble disposition, meaningful preaching and his love for his parishioners are trademarks of his two decades of ministry. The Diocesan Vocations Office interviewed his parents to get a closer look at raising a priest.
"I was not at all surprised," said Father Tony's mother, Linda, when her son said he would go to seminary.
"Dave (his father) was very surprised," she said, "because he said Tony was so shy. It would be difficult for him to give a homily!"
Father Tony commented, "I remember my mom asked our pastor, Father John Finis, why 'my son would go to the seminary because we aren't that religious.' Father Finis replied, 'Well maybe you are.'" Father Tony said, "My dad said, 'If you're going to do that, then you're going to be all in.' He is that way about everything."
Dave and Linda are a typical Catholic couple from Dubois County. Both are retired after many years working: Dave at Jasper Engines & Transmissions Exchange, and Linda as a beautician. Dave enjoys being a cobbler, fishing and doing yardwork. Linda enjoys playing bridge, reading and crocheting. Both are active members of St. Joseph Parish in Jasper.
Linda recalled, "After he graduated from the University of Southern Indiana in December of his senior year, Tony was kind of at 'loose ends,' and I suggested he go talk to Father John Boeglin, who was the pastor in Celestine. He recommended Tony attend a retreat at Saint Meinrad." The rest is history.
When asked about what made their family "Catholic," Father Tony's parents mentioned simple things. "We attend Mass regularly together. I lector, and we are both Eucharistic Ministers," Dave said. Linda is also training to help those in need through Saint Stephen's ministry.
"I just think it's that they lived the faith," Father Tony responded.
After Father Tony entered seminary in 1993, Dave and Linda "really enjoyed" going to visit him. They got to know the seminary rector. "He still sends us a personal Christmas card every year," Linda said.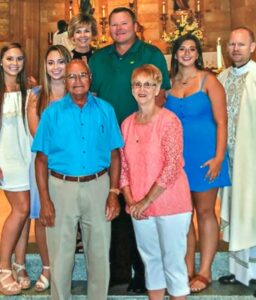 Some parents struggle with encouraging or accepting a celibate vocation in their children. They often want grandchildren instead. "Angie is the only sibling to Tony," said Linda. "She has given us three granddaughters."
And often, parents worry that their son will be lonely or not experience the fullness of life.
But the fears parents often develop appear unfounded in the face of what Dave and Linda have experienced.
"Our son baptized all three of our granddaughters, and they really love their Uncle Tony. Our son celebrated the funeral Masses for two of our parents, Tony's grandmothers. Our son celebrated a special Mass for our own 50th Wedding Anniversary." It doesn't seem like Linda or Dave could be more proud or happy for their son. "It is such a blessing to attend a Mass that your own son celebrates."
"He is so happy to be a priest," Father Tony's parents commented with joy. "As a parent that's what you hope for your children."
When asked what advice they would give, Dave responded, "Give your children a good example.  Encourage and support them in whatever vocation God is calling them to." Linda added, "It is very humbling to have a son that is a priest. It is a blessing and a joy!"
Father Tyler Tenbarge is Diocesan Director of Vocations. Father Tony Ernst serves as administrator of St. Francis Xavier Parish in Vincennes and St. Philip Neri Parish in Bicknell. Bishop Joseph M. Siegel recently appointed Father Ernst to serve as Associate Director of Vocations while continuing to serve St. Francis Xavier and St. Philip Neri parishes.