By Cori Fugere Urban
Catholic News Service
JOHNSON, Vt. (CNS) – When Dawn Tatro and her husband, Greg, walked out the front door of St. John Church in Johnson on their wedding day in 1986, they were greeted by a rainbow, a symbol of promise.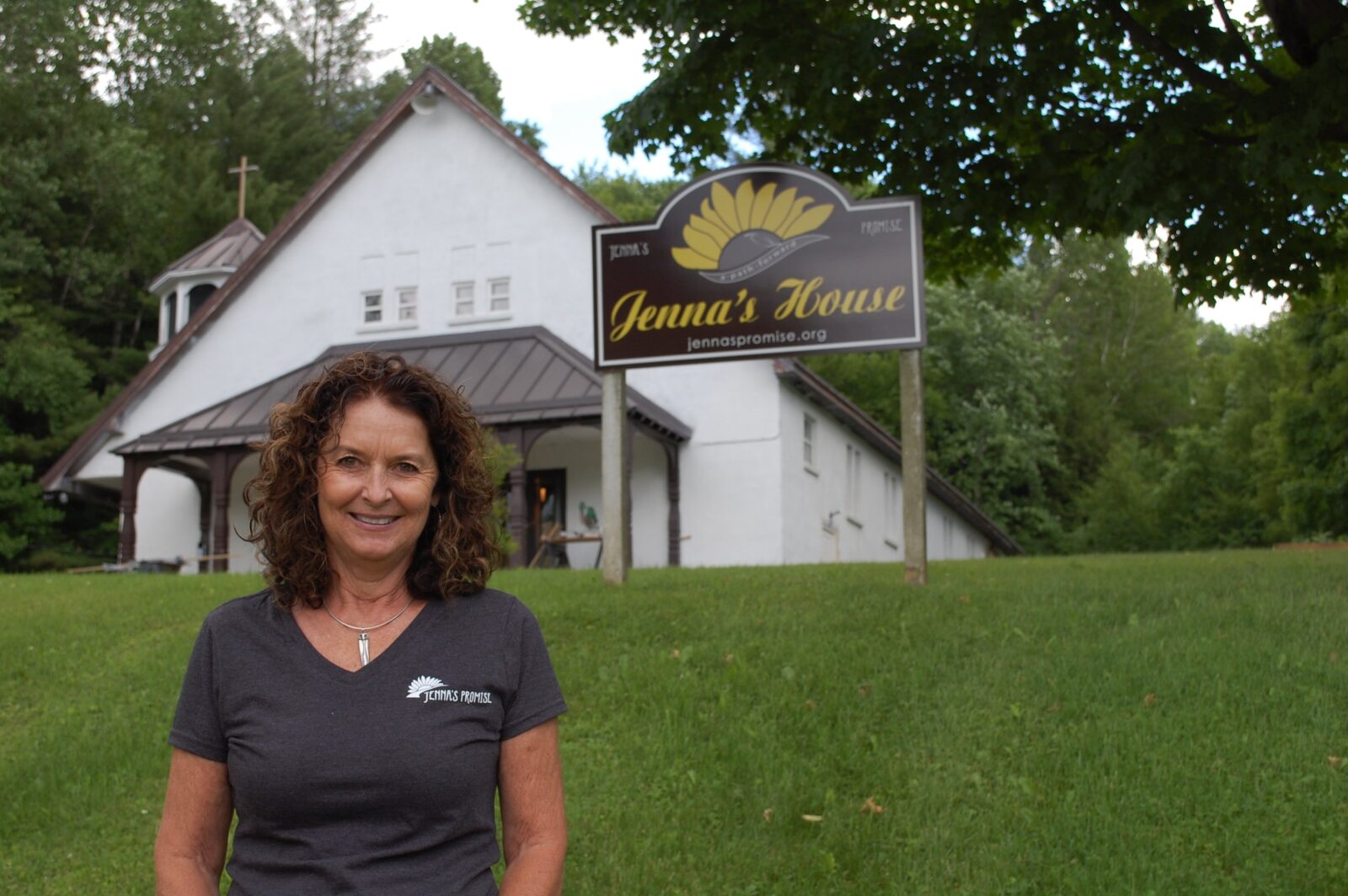 Little could she have imagined then that the couple would one day buy the former church to house Jenna's Promise, a nonprofit organization they founded in memory of their daughter, Jenna, that helps people who are suffering from substance use disorder.
Jenna, who was baptized, made her first Communion and was an altar server at St. John, overdosed on fentanyl in 2019 at age 26.
Her parents purchased the 1940s-era building later that year to continue their daughter's work of helping others struggling with substance-use disorder.
The pews in what had been the hilltop church's worship space are gone, replaced with tables and chairs for meetings, events and fundraisers. The facility is used by persons in recovery and by the local community.
Jenna's Promise is partnering with North Central Vermont Recovery Center, which will occupy the lower level that had once been a parish hall for its programs. Facilities will include a gym, kitchen, children's play area, meeting rooms and offices.
The grand opening is set for Aug. 14.
The former church is now called Jenna's House, and the Jenna's Promise umbrella organization includes Rae of Hope, a sober home in Johnson for women with substance use disorder and/or victims of psychological trauma; and JP Goods, a discount store in Johnson where those in recovery can work.
Jenna's Promise's mission is to create a network of support that will help people suffering from substance use disorder to recovery and independent living. Its goals are to provide healing, create hope and enhance community.
Funding comes from the Tatros, grants, fundraising and individual donations.
Jenna graduated from Bishop John A. Marshall School in Morrisville, Vermont, and planned to pursue a career in the medical field so she could help people. She liked to play soccer, ski, snowboard, play the piano and write. She rode horses competitively.
She was a student at Johnson State University when, one Christmas, someone she knew beat her. She landed in the emergency room where she was prescribed 30 days of oxycontin, though, as her mother said, "she had no broken bones, just a broken heart."
Jenna never went back to college; drugs ended up "owning her," Dawn Tatro said. Jenna spent six years in and out of rehab, often outside of Vermont where programs were available.
While in rehab, Jenna "helped so many people," Dawn Tatro told the Vermont Catholic, the magazine of the Diocese of Burlington. Sometimes she'd ask her parents for money to help another sober house resident. She'd sit with people who were suffering, listen to them, share her blanket.
"She wanted to fundraise and educate people about this disease to help others who did not have the resources she did," Dawn Tatro said. "That was Jenna's promise, and we kept it going."
After the closing of St. John's, Greg and Dawn Tatro -- CEO and chief financial officer, respectively, of G.W. Tatro Construction -- joined Most Holy Name of Jesus Parish in Morrisville, Vermont. Dawn Tatro said her faith helped during Jenna's illness and death, and realizes now that God is guiding the couple to help others.
"If I didn't love Jesus so much going through this pain, I could never have done all this," she said.
The Tatros "are wonderful people and doing such needed work," said Father Jon Schnobrich, pastor of Most Holy Name of Jesus Parish.
Dawn Tatro recalled a homily the priest once gave in which he said that God greatest joy is Jesus, the son, and in giving Jesus to the world, God's plan was not to condemn or shame humanity for its sin and disobedience, but to save it.
As they carry on Jenna's promise to help persons suffering from substance use disorder, Dawn Tatro recognizes there is something about the former church situated on three acres that is healing.
"People say when they walk out, they have hope," she said. "People leave from meetings here saying 
- - -
Urban is managing editor of Vermont Catholic, the magazine of the Diocese of Burlington.