Special to The Message
The Pontifical College Josephinum seminary in Columbus, Ohio, has honored Edward "Jim" Geiser, a member of Evansville's All Saints Parish, with its 2020 Jessing Alumnus of the Year Award. He is a member of the Josephinum Class of 1957.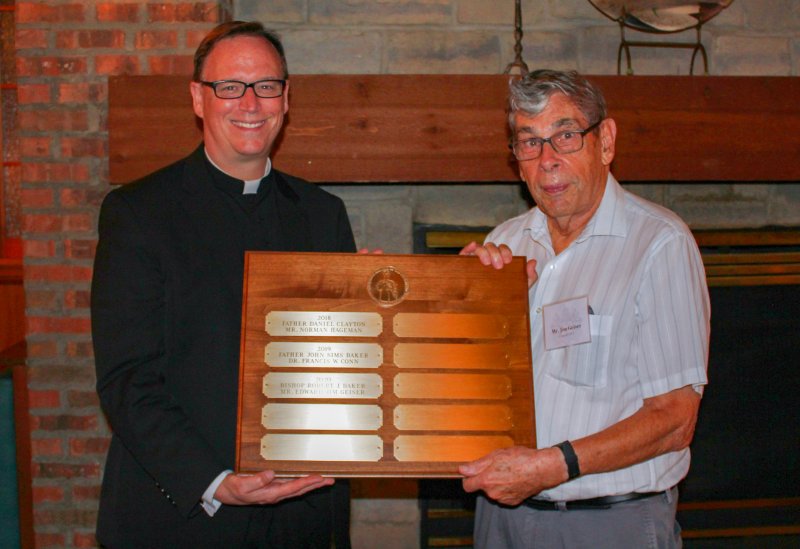 Geiser has been connected with the Pontifical College Josephinum since his days as a high school student there in the late 1940s. He went on to serve in the U.S. Army during the Korean War from 1953-1954. In 1962, he married his beloved wife of 53 years, Eva; they were blessed with two children and four grandchildren.
Geiser retired from Walman Optical Co. after 45 years in the optical industry and became a volunteer fireman. He also has volunteered for Honor Flight and at the West River Nursing Home. A dedicated member of All Saints Parish, Geiser assists in the office, helps with collection accounting and is a member of the choir.
Since his days of study at the Josephinum decades ago, he has remained a part of the seminary family and stayed connected with his classmates. Michael Fry, Josephinum Alumni Liaison, has known Geiser for many years. "He has been a welcome and familiar face at reunions both at the seminary and at other locations in the Midwest," Fry said. "His dedication to the Josephinum is beyond commendable."
The Jessing Alumnus of the Year Award is named for Msgr. Joseph Jessing, a German immigrant priest who founded the Josephinum in 1888. Recipients are selected annually from nominations submitted by alumni; honorees are recognized for their service to the Church and community, and for their support of the Josephinum and its mission in the spirit of Msgr. Jessing. Geiser was present to receive the award from President/Rector Very Rev. Steven P. Beseau at Josephinum's annual reunion celebration in early September.