By Gina Christian
OSV News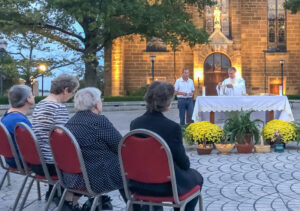 In the follow-up to his 2015 encyclical "Ludate Si'," Pope Francis warns that the clock is ticking on the dangers of climate change -- and a paradigm shift and practical action are critically needed to avert looming disasters in nature and human society.
The pope released his new apostolic exhortation, "Laudate Deum," ("Praise God") Oct. 4. The exhortation's publication coincided with the feast of St. Francis of Assisi, patron of ecology, whose famous canticle inspired the title of "Laudato Si'."
Though only about one-fifth the length of "Laudato Si'" (which it references extensively), the exhortation's message is even more urgent. The text reiterates key messages that have resonated throughout Pope Francis' papacy -- among them concern for the marginalized, care for creation, human ecology and a synodal approach to resolving global problems.
The pope invited Catholics and those of other faiths to recall their "spiritual motivations" for addressing the climate crisis, asking "everyone to accompany this pilgrimage of reconciliation with the world that is our home and to help make it more beautiful, because that commitment has to do with our personal dignity and highest values."
Humility is essential in this journey, he said, "for when human beings claim to take God's place they become their own worst enemies."