The Message assistant editor
Poverty can look different depending on where you grow up, according to African seminarian Fredrick Ochieng. Sometimes poverty is when someone doesn't have food, Ochieng explained, while other times poverty is when they don't have a home.
Ochieng, a native of Kenya, was one of 22 seminarians from Saint Meinrad Seminary and School of Theology who attended a Dec. 4 Poverty Summit hosted by Catholic Charities of the Diocese of Evansville and Potter's Wheel. Many local agencies host seminarians weekly on Wednesdays while they serve as social-justice interns for a schoolyear.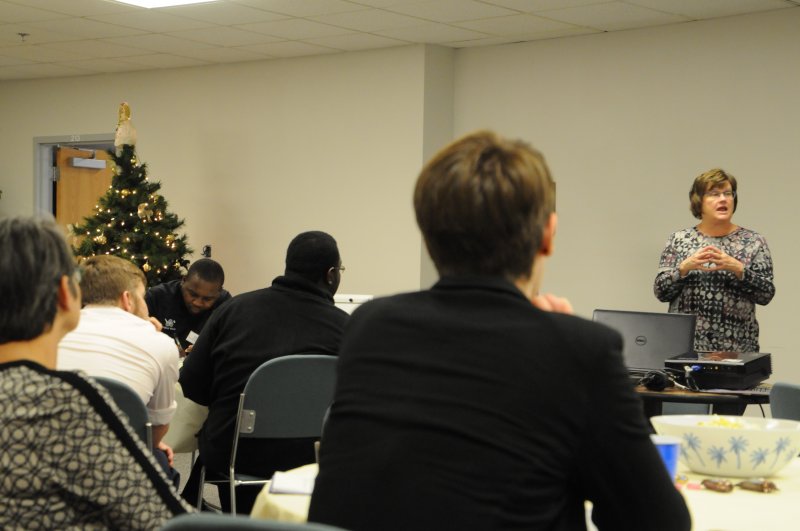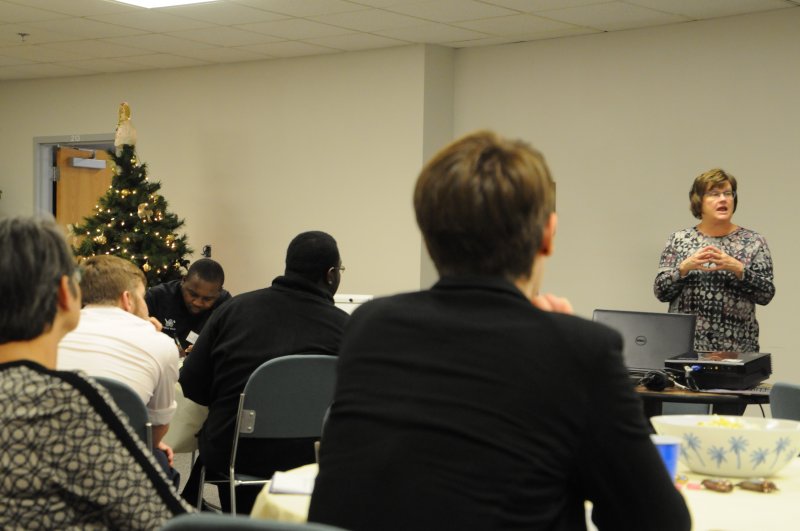 "Somebody like myself, I'm coming from a foreign country, and what makes people poor in the U.S. is different than what makes people poor in Kenya," Ochieng, 30, said. "It's a different kind of poverty here. So I think (the summit) helps me to be able to better understand (poverty)."
During the four-hour workshop, which focused on material poverty, seminarians learned myths and realities of poverty; how mental health can impact poverty; and the need for affordable housing. They also completed a poverty simulation exercise in which they were given situations and had to make decisions that may or may not place them in poverty.
This was the first year for a summit focused on poverty specifically for seminarians. Catholic Charities Executive Director Sharon Burns and Potter's Wheel Executive Director Chris Fleming organized the event.
Burns wanted seminarians to learn what they didn't already know about poverty.
"We hope their hearts are more open to the plight of the people they serve," she said. "And maybe they will see the subtle things that may not be as obvious, and now they'll know how to respond appropriately."
Local representatives who discussed facts about poverty and de-bunked myths included Emily Riedford with Mental Health America, Susan Steinkamp with Aurora and Emily Baxter with Vectren Community Affairs.
When the seminarians introduced themselves, they shared their pre-conceived idea of what causes poverty or how people in poverty live. These thoughts included a lack of chances, poverty being intergenerational and a lack of access to education or resources.
Ochieng, whose home congregation is Glenmary Home Missioners, is interning this year at Catholic Charities with fellow St. Meinrad seminarian Charlie Wessel from the Archdiocese of Indianapolis. Ochieng said the work they've done has equipped them to know how to engage with others and how to open doors to help people succeed.
"Social justice is a very important part of pastoral life, and I think getting to know issues of poverty is part of the social justice issues," Ochieng said. "Christ didn't send those people away, he planned for these people to have something to eat, so it's fundamentally a call for us to look into the needs and the material needs of the people we shepherd."
Wessel, 22, attended Marian University; he said he learned at Marian about many resources available to the poor in Indianapolis and programs offered to lead them out of poverty.
Wessel said much of the work completed during the Catholic Charities internship, so far, has been in-house – getting to know the work Catholic Charities employees are doing, joining meetings and hearing client stories. The Poverty Summit went deeper into mental health and the training priests can complete, he said, as opposed to simply knowing the general problems of poverty.
"Here they are referencing us as pastors and the people we will meet on the frontlines," Wessel said. "Telling us, 'you should be trained in this to know how to respond, and when someone comes to you these are the people you should reach out to.' In our work, it's giving us a more specific focus on how we look at poverty as opposed to the general issues. It helps us specifically out of our line of work as Catholic pastors."