By Tim Lilley
The Message editor
St. Joseph Parish in Jasper held a March 11 press conference to announce Phases II and III of a project to preserve St. Joseph Church, known for decades as Jasper's "Faithful Watchman." The press conference also included details of "Our Time," the capital campaign underway to fund Phases II and III.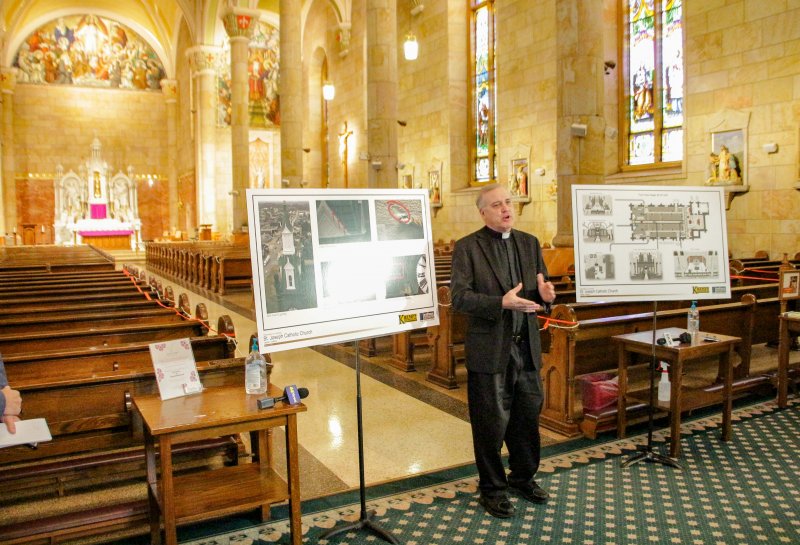 St. Joseph Pastor Father Eugene Schmitt was joined by Alan Hoffman, chairperson of the Renovation Committee, and Dan Fritch, chairperson of the "Our Time" campaign.
On the "Our Time" website (link at the end of this story), Father Eugene provides some historical perspective:
"This all started in 2014 when Father Ray Brenner (then pastor of St. Joseph Parish) asked a small group of parishioners to form a working committee to evaluate the needs of our building.  While the focus was the stained-glass windows, other needs became apparent quickly.  Issues such as sound, lighting, and crumbling stone brought about an expansion of the committee and underscored the need for a formal evaluation and a professional Facility Assessment. Know this has been well-planned and vigorously reviewed over the past 6-plus years.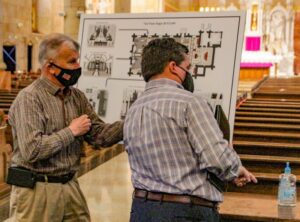 "When I arrived in June 2019, my first statement about this project was a commitment to maintain the historic presence, culture, and legacy of Saint Joseph Catholic Church and to honor the men and women who built and preserved it before us.  I trust you find me faithful to my word.
"In the end, (the "Our Time" campaign) is truly about the future.  It is about ensuring there is always a place for lives to be enriched and transformed for Christ in our community, where Baptisms, First Communions, Confessions, Confirmations, Weddings, Funerals, and Mass will continue. Now is our time; our time to preserve and continue that legacy."
During the press conference, Father Eugene explained that the complete restoration of St. Joseph Church's 20 stained-glass windows became the first step of the project. Hoffman explained that a professional facility assessment also revealed 15 immediate and short-term maintenance items. Addressing these maintenance items and restoration of the windows became Phase I of the project. Fund generated through the Stewards of God's Grace diocesan-wide capital campaign financed Phase I.
Phase II will focus on repair and restoration of the exterior of the church. Phase III will focus on the interior of the church, which will be closed throughout this phase. Masses and other services will be held in the Kundek Center during the Phase III closure of the sanctuary.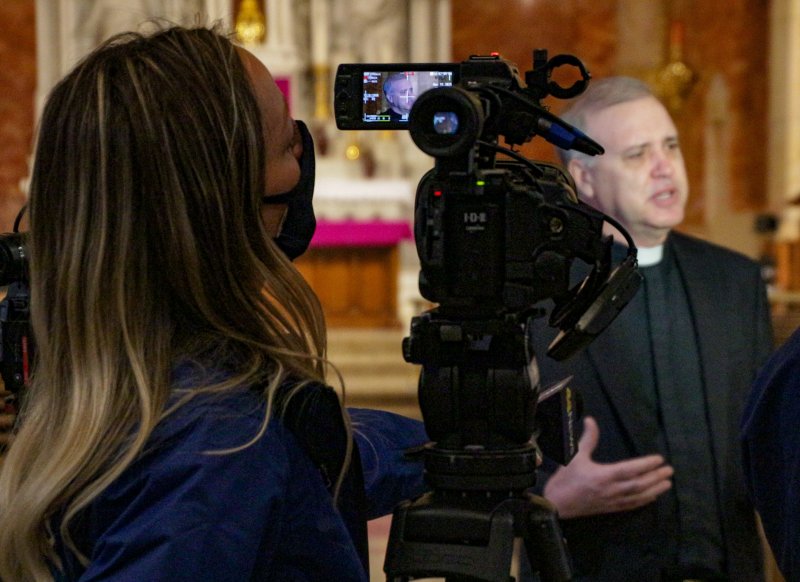 "This is where the most important moments in people's lives happen," Father Eugene said. "So I am excited for the community and the parish to get this project off the ground. This is about the legacy of and the love for St, Joseph Church. Our parish family is very excited about this opportunity to preserve the Faithful Watchman of Jasper for generations to come. This is our time to make that happen. We chose 'Our Time' as the name for the campaign for that reason."
Architects, engineers and contractors provided expertise and input as the plans for Phases II and III came together. Hoffman said the Diocesan Building Commission and Diocesan Finance Council have approved the plans for Phase II, with work expected to begin in May. He said Phase II should take about six months to complete and will include tuck-pointing, other exterior repairs including some to mitigate moisture issues discovered on the interior of the church, and work on the bell tower and church steeple.
Hoffman said the Renovation Committee expects to present Phase III plans to the Diocesan Building Commission and Diocesan Finance Council in late April.  Based on approval and a successful capital campaign, work would begin in September; at that point, the sanctuary will be closed for approximately one year to enable completion of the work. Interior plans include creation of a new gathering space/cry room, which will reduce the sanctuary seating capacity by roughly 90. It also will include installation of new stairwells to the choir loft, a new HVAC system, new lighting and a new sound system, ceiling plaster repairs and decorative painting, and other improvements.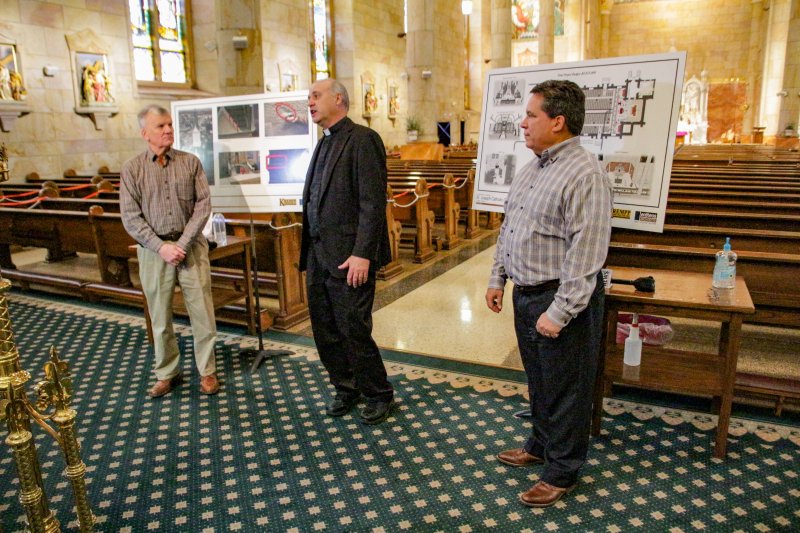 It won't include any kind of a "new look." Father Eugene said, "We want to be able to keep the traditional look of this church because it's so beautiful; you don't really want to do anything to disturb that."
Fritch said the goal of the "Our Time" campaign is $10 million, and he suggested that things are already off to a good start. The campaign is benefitting from more than 100 volunteers who are personally visiting with parish families. "It's clear that St. Joseph parishioners are behind us," he said. "This entire effort is about the next 150 years and our future generations."
Fritch added that he and other campaign volunteers will also reach out to friends of the parish, businesses and foundations as the campaign continues. 
More information on the project and the campaign is available online at https://saintjosephjasper.org/our-time-capital-campaign.