By Megan Erbacher
The Message assistant editor 
Resurrection School Principal Theresa Berendes believes she must lead by example. That's why she begins and ends each school day with prayer.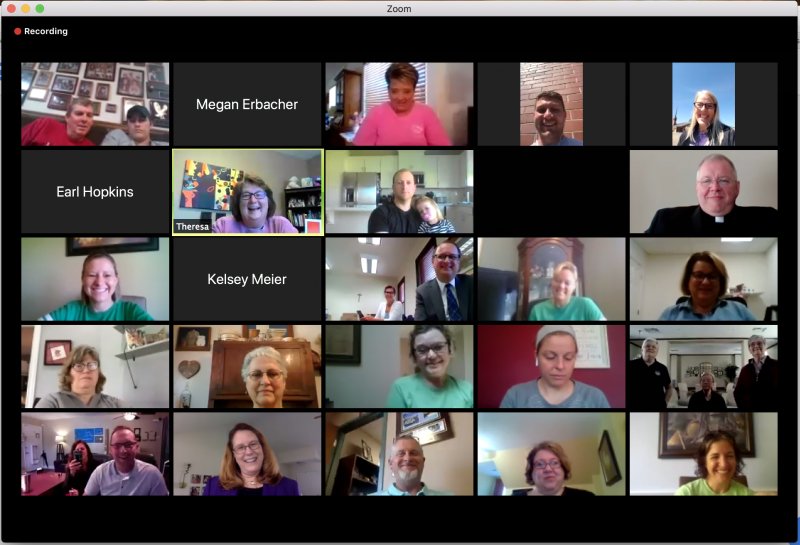 On Sept. 3, Berendes shared a prayer she recites daily with about 75 educators and their family members during the University of Evansville's School of Education virtual Recognition Ceremony. The online Zoom celebration honored Outstanding Educators for 2019-2020, students entering the School of Education, graduates and two inductees into the Educator's Honor Roll.
In May, Berendes was named the 2020 Outstanding Building Principal of the Year during a surprise Zoom meeting. Berendes is in her 30th year as an educator, with 11 of those years as principal of Resurrection and three years as principal of St. Theresa School. 
"Each morning, I begin my day with this prayer, and so I'd like to pray it with you," Berendes said. "It's a special prayer, my mother's prayer, 'Lord, help me to remember that nothing is going to happen to me today that you and I together can't handle.'"
This is the 29th Annual Outstanding Educator of the Year Awards, according to organizers, which is sponsored by UE and the Evansville Courier & Press. The program honors the dedication of Vanderburgh County K-12 educators at nonpublic and public schools who excel in the profession and have at least three years of experience. Awards are given in four categories: elementary, middle schools, high schools, and principal.
Since the COVID-19 pandemic prevented an in-person banquet this year, the online ceremony was organized.
Amy McBride, UE associate professor and program chair, said the 2019-2020 school year was particularly unique for all educators.
"In March, teachers had to become instant experts on virtual and distance learning," McBride said. "It required many hours of work, but educators of Vanderburgh County did what they always do — succeed."
UE President Christopher Pietruszkiewicz said since the coronavirus outbreak, educators have done everything in their power to prepare students to return to the classroom.
"Thank you for your commitment to the future of our country, because the country only exists because of educated people and educated people start with all of you," he said. 
Berendes thanked many people for the honor, including her family, staff and fellow principals. She said her husband jokes that she works half days – 12-hour shifts.
"Every one of my teachers deserves this recognition as well," she said. "They are the most amazing, dedicated, loving staff. … I love being principal at Resurrection. It's my second family."