Special to The Message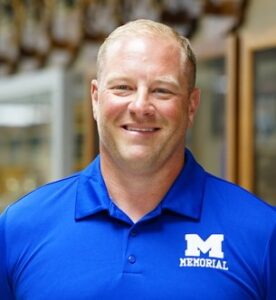 Reitz Memorial High School President Christian Mocek has announced the appointment of Chad Dockery as the school's next Director of Athletics. He replaces Weber, who announced in May that he was stepping down. Chad is the son of longtime Reitz Memorial athletic director and coach Bruce Dockery.
Chad is a 1995 Reitz Memorial graduate, and was a member of the football, wrestling, and track and field teams. He earned a bachelor's degree in history from the University of Southern Indiana in 2002, and a master's degree in teaching from the University of Phoenix in 2011. 
Chad comes home to Memorial from Plainfield, Indiana, High School, where served as an assistant football and track coach. In 2022, he was the sprint coach on the boy's track and field team that won the Indiana state title. 
Chad's career includes roles as head coach in football, track and field (men and women), baseball and basketball. He has been a camp director for youth camps and high school camps, and has worked camps for professional athletes and teams. Chad has also been a strength and speed coach at the high school level as well as a Sports Performance Director in the private sector. 
As a classroom teacher for over 20 years, Chad has taught social studies and leadership, and worked as a globally certified career-development facilitator. Most recently, he worked in the private sector as a customer ambassador for BGW Construction. 
Reitz Memorial President Christian Mocek said, "Chad's diverse background in education has provided him with experiences that have shaped his philosophy in working with student athletes, coaches and the community. Chad will focus not only on winning championships, but also on forming young women and men into leaders of virtue and moral character. I'm thrilled to welcome him back home to Memorial after 25 years away." 
Reitz Memorial Principal Aaron Schmitt said, "Chad's years away from the Evansville area have provided him with an opportunity to learn from outside our community. Combining that with his knowledge and love of Memorial, his passion for education and athletics, we are excited for the future of Memorial and our athletic programs under Chad's leadership." 
Chad said, "I look forward to the continuing the pursuit of excellence through athletics, academics, and faith that has been a great tradition at Memorial. I am committed to assisting all our athletes, coaches, volunteers, and booster club to continue to build success through the athletic and academic experience. I want to thank Mr. Mocek, Mr. Schmitt and all those involved with this process. Thank you for the opportunity to serve through leading the athletic department at Memorial High School." 
As Director of Athletics, Chad will be responsible for overseeing all aspects of Reitz Memorial's athletic program, which comprises 19 varsity sports, and boasts 25 team IHSAA state championships and countless semi-state, regional, and sectional titles. He will assume his duties as Director of Athletics on July 1. 
Chad currently resides in Plainfield with his wife Stephanie and their three children, Addison, Luke and Evelyn. 
Reitz Memorial is in its 98th year of operation and anticipates an enrollment of 615 students in grades 9 through 12 in the 2023-2024 school year.