Special to The Message
Reitz Memorial High School announced on May 4 that Christian Mocek will become school President on July 1. He succeeds John K. Browning, who is retiring effective June 30.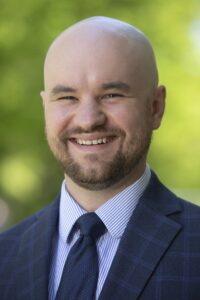 He comes to Reitz Memorial after serving seven years on the staff at Saint Meinrad Seminary and School of Theology in St. Meinrad. 
Mocek earned a bachelor's degree in education, with minors in history and political science, from Bowling Green State University in Bowling Green, Ohio. He earned a master's degree in educational policy and leadership from the University of Michigan in Ann Arbor, Michigan.
Benedictine Father Godfrey Mullen, rector of St. Benedict Cathedral Parish in Evansville, serves as Priest-Delegate for Reitz Memorial. He said, "As Bishop Siegel's Priest-Delegate for Reitz Memorial High School, I am excited and encouraged for the future of our diocesan high school as Christian Mocek takes up the work of President of the school on July 1." 
Father Godfrey added, "Christian has degrees in education and leadership, invaluable experience in alumni relations and development, and above all, a strong faith in Jesus Christ and a belief in His merciful grace. He knows that all the work of the Catholic Church starts and culminates in the person of Jesus Christ. I firmly believe that he will help lead Reitz Memorial into a future full of grace, and I look forward to the positive impact he and his family will have on the Church of Southwest Indiana."
Mocek said, "I'm honored and humbled to be joining such a wonderful community of faith and learning. I look forward to working with our partner parishes along with our students, staff, parents and alumni to continue our work of forming leaders who are rooted in the Catholic faith and committed to service."
Mocek began his professional career as program assistant with the Center for Educational Outreach in Ann Arbor. There, he developed educational programming (school visits, workshops, presentations, academic support, etc.) for high school students focused on college access and preparation; trained college students for outreach work in schools and the community; and established and maintained collaborative relationships with students, parents, schools, communities, organizations, and partners within the University of Michigan.
He joined the Saint Meinrad staff in 2014 as Director of Alumni Relations. He served as the chief alumni officer for Saint Meinrad, advising on policies and procedures to build alumni support and initiatives to involve alumni in assisting Saint Meinrad in achieving institutional goals. 
Since August 2018, Mocek has served Saint Meinrad as Director of Annual Giving. In this role, he was responsible for the organization, planning and management of Saint Meinrad's programs that raise $2-3 million annually from individuals, corporations and foundations for the annual operating needs of Saint Meinrad. As a member of the senior staff, he has assisted and advised the Vice President for Development on continuous improvement for the Development Office, as well as taking a lead role in planning and implementing special appeals and campaigns. 
Diocese of Evansville Superintendent of Schools Dr. Daryl Hagan said, "Christian comes to Reitz Memorial with a strong commitment to his Catholic faith and particularly Catholic education. His background, experience, energy and enthusiasm for Catholic education will be a great addition to the school leadership team."
Mocek currently lives in New Albany, Indiana, with his wife, Gillian, and children Simon and Eloise.