Special to The Message
Reitz Memorial High School senior Isaac Wetzel couldn't believe it when he got the email with the subject 'It's happening!' Wetzel was "stoked," he said, but also anxious to see how the 11th annual Youth Resources' Big Man On Campus event would be held with public-gathering restrictions due to COVID-19.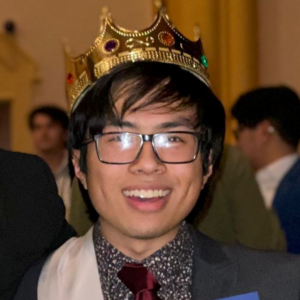 "It's always been a dream of mine to represent the mission and values of RMHS," Wetzel said.
After the recent three-day virtual event, Wetzel, Mr. Memorial, was crowned and named Youth Resources' 2020 Big Man on Campus.
The virtual event, which was streamed online, raised a record-breaking $6,590 to support YR's Teen Advisory Council.
The other five contestants were: 1st Runner Up, Mr. Signature Sean Egli; Crowd Favorite, Mr. North Tanner Jackson; Mr. Congeniality, Mr. Mater Dei Henry Duncan; Interview Champ, Mr. North Tanner Jackson; Talent Champ, Mr. Central Isaac Scheller.
On the first night of the competition, contestants were introduced and shared details of their service and leadership throughout high school. Then, contestants answered four questions from hosts Ryan O'Bryan of 99.5 WKDQ and Erin Meyer of the University of Southern Indiana.
Night two featured a talent show consisting of recorded videos that included music, magic and comedy.
On the final night, contestants recognized the people who have meant a lot to them on their Big Man on Campus journey and throughout their high school experience. Contestants also "wowed" the audience with a live group dance, choreographed by Holly Golec and Javon Nealy-Pickett of Expressive Dance Academy.
Wetzel got involved with Big Man on Campus last February after competing for Mr. Memorial.
Despite initially preparing for a stage show, Wetzel still enjoyed the online competition. 
"Right now, any and every moment of human contact means the world," he said. "The lack of physical presence was a bummer, but the crowd's roar from the comment section and the blinding light of my desk lamp felt just as welcoming. Someday, when this is all over, I hope that all of the contestants will meet each other (again)."
Wetzel assumed any of the contestants could win, but he was shocked when they announced Mr. Memorial as the winner. He raised nearly $700 during the virtual event, which he said was "bonkers" because it was more than he expected. 
In the fall, Wetzel plans to attend Belmont University in Nashville, Tennessee, to study Music Business and Emerging Media.