Special to The Message
Lisa (Hedge) Popham, 62, who served Reitz Memorial High School as assistant principal the past 23 years, died April 26 at her home, surrounded by her family. Lisa was born in Evansville on Feb. 12, 1958. She was a 1976 graduate of Castle High School and received her bachelor's degree in social studies and art from Indiana State University. On campus, she met her future husband, Joe Popham, whom she married in 1986.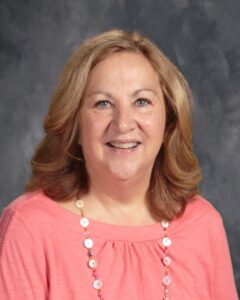 Lisa continued to pursue her education and received her master's degree in art from the University of Evansville. She began her teaching career in Elizabeth, Indiana, and moved home to teach at Holy Redeemer School. She became the assistant principal at Reitz Memorial High School in August 1997. She was a member of Evansville's Holy Rosary Parish.
Reitz Memorial President John Browning said, "While we can't gather as a community, Memorial remembered Lisa and her 23 years of service in the evening of April 26. The school remained dark except for her office, which shined bright in her honor."
Browning told The Message that the Memorial flag in the Koch Family Plaza will fly at half-staff in Lisa's honor until the morning after her burial.
Lisa was preceded in death by her parents, Jean and Leo Goelzhauser; father, Bill Hedge; brother, Bobby Hedge; and sister, Diane Bernhart. Survivors include her husband of 33 years, Joe Popham of Evansville; daughters, Rachel Updike (Stan) of Acworth, Georgia, and Paige Popham of Evansville; grandchildren Cooper and Collins Updike; sisters, Mimi Scheessele (Damien) of Newburgh, Louise Hauert (Bob) of Stone
Mountain, Georgia, and Christine Hasler (Dennis) of Little Rock, Arkansas; brothers, Bill Hedge (Kathy) of Phoenix, Arizona, Tim Goelzhauser (Connie) of Newburgh, Tom Goelzhauser (Sabrina) of Newburgh, and Mike Goelzhauser (Kate) of Newburgh.
Private graveside services will be held May 1 at St. Joseph Cemetery in Evansville with Father Bernie Etienne officiating. A celebration of Lisa's life and Memorial Mass will be held at a later date after restrictions are lifted.
The Message will publish a tribute to Lisa in the May 22 all-diocesan issue. May she rest in peace, and may perpetual light shine upon her. Please keep Lisa, her family, her Holy Rosary Parish family and her Reitz Memorial High School family in your prayers.