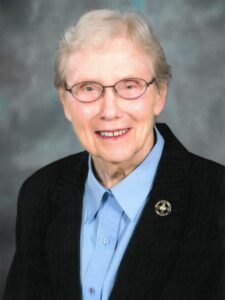 REFLECTION
BY ANN NAGY
Holy Trinity School, Dubois County
On Aug. 18, 2020, the world lost a great advocate for Catholic-Christian education in Benedictine Sister Mary Dominic Frederick. In addition to serving as an educator in Diocese of Evansville Catholic schools, she shared her gifts and talents as a teacher and principal at The Academy Immaculate Conception/Marian Heights Academy in Ferdinand for nearly 25 years.
Sister Mary Dominic has had a profound impact on my life. As a student, I benefited from her prudent guidance, and later was blessed by her support while working as a teacher on her staff. She and the other Benedictine Sisters influenced me to choose to serve God and others as a Catholic educator.
Sister was a remarkable, prayerful woman. At a time when Women's Liberation was professed, I viewed her as someone who was already liberated by faith. She was confident and unafraid. Deliberate, focused and seemingly fearless, she was willing to state her beliefs. Despite opposition, she advocated for peace and social justice. Unconcerned with material wealth, she passionately fulfilled the mission to which God had called her. While I was discerning my purpose in life, she actively pursued her commitments to God, her community and to the betterment of each of her students.
John F. Kennedy said, "Leadership and learning are indispensable to each other." Sister Mary Dominic had an inspirational vision of Catholic education. The Academy was a diverse, international, college-preparatory girls' boarding and day school. Under her guidance and that of the Benedictine Sisters, we students learned how to respect differences of other races; religious affiliations; economic backgrounds; political parties; and cultures. Without judgement, we learned how to embrace our own unique differences, and grew in understanding and tolerance from our interactions with our fellow classmates. We learned to look for the positive commonalities of life, and formed lifelong and enduring friendships.
Sister Mary Dominic was passionate about her role as a Catholic educator and administrator. The opportunities she orchestrated for us, her students, to become faith-filled, well-educated, service-oriented and balanced young leaders were profound.
She was gifted with deep unconditional love and compassion for others. She saw our true potentials and helped us grow. Author Dr. David G. Benner describes God as being made of love. "Only when we live in love can we feel truly safe and strong enough to face our true strengths and weaknesses." Her love was tough, challenging, inspiring, powerful, accepting and life-giving – much like God's love for us. To her, educating youth was an extension of God's love.
She valued hard work but also enjoyed life. I recall her heartwarming smile as she recounted stories about driving the golf cart to the barn to feed the cats, attending weekly card parties, discovering a treasure in the Monastery archives, telling of former students' successes and celebrating St. Louis Cardinal baseball victories.
Sister Mary Dominic now rests in the loving arms of God, her lifelong friend and confidant. Thanks to her influence, I have become a better person, a better educator and a better Christian.
Nagy teaches at Holy Trinity Catholic School in Dubois County. We are grateful for her willingness to share this reflection.