The Message assistant editor
Brayden Head loves to spend his free time fishing and hunting, and he wants other kids to enjoy his favorite outdoor hobbies.
Head, a first-grader at Resurrection School, didn't have to think long about what nonprofit he wanted to support for "Make a Difference – First Grade Style." He chose C.A.S.T. for Kids.
Resurrection first-grade teachers Jennifer Meyer and Jennifer Schmitz gave their 23 students $5 each and challenged them to "make a difference in their world" by raising money, items or donating time to benefit a charity, nonprofit or person of their choice.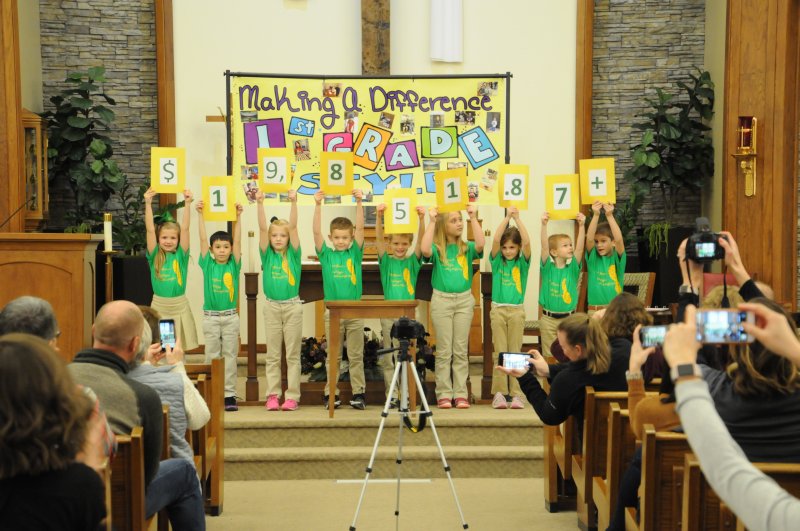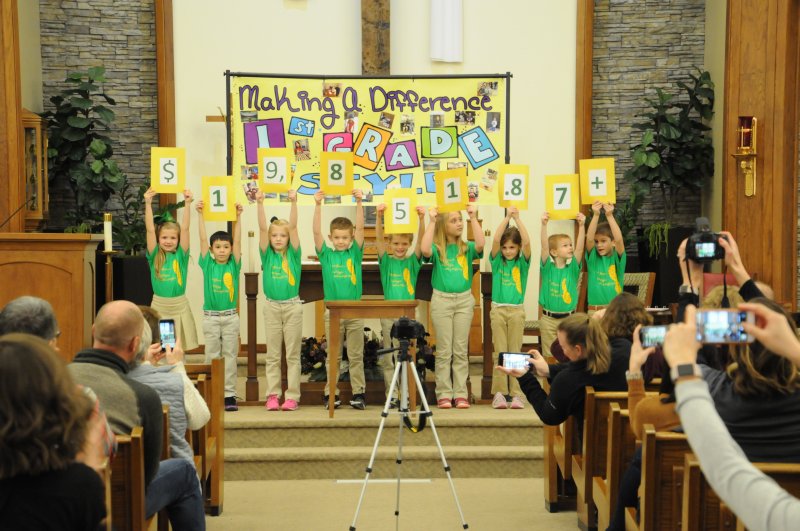 In the project's 10th year, students raised more than $19,851.87, which is a record-breaking year, according to Meyer. There was a plus-sign at the end of the total because some students didn't report their earnings, and others used the money to donate supplies or materials, Schmitz explained.
For his "Make a Difference" project, Head used his $5, plus some of his profits from the two candy machines he manages at two local businesses, to donate $105 to C.A.S.T. for Kids. The nonprofit, Catch A Special Thrill, takes disabled youngsters ages 6-18 years-old on fishing trips. Head has donated to them in the past.
"I feel that God is teaching me to share my love for fishing," Head said. "Also, that it is nice to help others. I feel I have made a difference by putting a smile on other kids' faces."
Resurrection first-graders presented their projects and what they learned to an audience of parents and grandparents on Feb. 5 in Resurrection Catholic Church.
Schmitz said every year she is amazed by the different projects students come up with that made a difference in their community and their world. Kids made posters to promote their project, and some parents helped their child create a video and post it to social media to ask for donations.
Meyer said it's amazing to see who the first-grade students choose to help through the Make a Difference project.
"I hope the kids take away from this project their love for God and giving-it-forward," she said. "Learning that no matter how small you are, no matter how old you are, you are able to help in a big way or even a small way."
Beckett Roberson consulted his family to discuss what he could do for the project. Roberson enjoys drawing monsters, so he decided to create Beckett's Buttons, each displaying a different hand-drawn monster.
Roberson used the $5 from his teacher and bought enough supplies to make 50 buttons. He sold the buttons for $5, and then used $3 he raised to purchase more materials and created 30 additional buttons.
"No two buttons were alike," he said. "I spent two weeks drawing and creating monsters. I went around the community and sold my buttons. People really loved them."
Roberson raised $265, and his nana's business offered to match that amount, so he donated $530 to Riley Children's Hospital.
"I hope that my buttons will make people happy," he said. "I hope when they look at their button that they will remember to pray for the children at Riley's Hospital."
Roberson has 17 buttons left and plans to sell those and send the remaining money to Riley.
"I think God was teaching me about kindness and using my talents for others," he said. "It made me feel happy to work hard to make money for others."
Andrew Roberson, Beckett's dad, said the project is amazing. He hopes his son remembers the potential he has to make differences in whatever he wants to do.
"They are doing something that they're passionate about, but using it as outreach and to introduce students to think outside of themselves and to use what they have to see that they can make a difference, even if it's just a little bit," he said.
Since the "Make a Difference – First Grade Style" started 10 years ago, Schmitz estimated students have given back more than $71,851 to the community. She said the project inspires many students to help again.
"I hope what they learn through this project stays with them their entire lives," Meyer added. "And that they encourage their family members to keep helping and giving to the community."