Special to The Message
Right to Life of Gibson County is sponsoring a Safe Haven Baby Box billboard in Gibson County on U.S. Highway 41 between Haubstadt and Fort Branch. The billboard can be seen by northbound traffic and is scheduled to be available to the public for the next 6 months.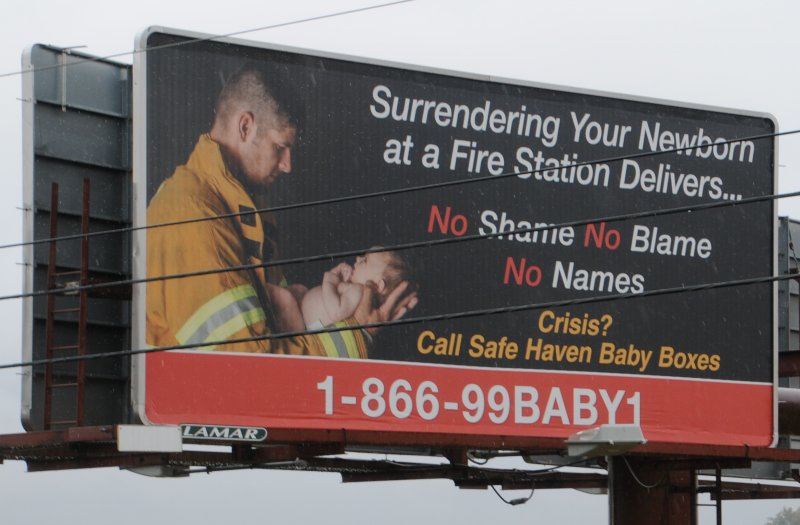 Sponsoring the billboard allows Right to Life of Gibson County to support Safe Haven Baby Boxes and their mission to raise awareness of the Safe Haven Law. The closest baby box available to Gibson County is approximately 45 miles away in Mount Vernon. There are currently 14 Safe Haven Baby Boxes in Indiana and Ohio.
Three babies have been surrendered inside Safe Haven Baby Boxes since the first was installed in 2016. Nationwide, 59 women and children have come through the Safe Haven Baby Boxes program with two of those surrenders in North Central Indiana in 2019. Safe Haven Baby Boxes cost roughly $10,000 to install and are equipped with alarm systems to notify the 911 center immediately. Safe Haven Baby Boxes also have heating and cooling features, and they lock as soon as a baby is placed inside.
Indiana is one of five states with updated Safe Haven Laws to include additional surrender options, including the Safe Haven Baby Box. The Safe Haven Law allows people to anonymously surrender their healthy newborn without fear of criminal prosecution.
For more information about Safe Haven Baby Boxes and their locations, visit www.shbb.org.
Safe Haven Baby Box Inc. is a non-profit organization founded by firefighter/medic Monica Kelsey. Kelsey was abandoned as an infant and is committed to ensuring the safety of newborns by installing more Safe Haven Baby Boxes in communities which allows women 100% anonymity. The Safe Haven Baby Box organization also staffs a 24-hour National Crisis hotline [1-866-99BABY1 (1-866-992-2291)] to give women the opportunity to talk to a trained, licensed professional as they consider safely surrendering their newborn.
Kelsey said, "So far in 2019, 7 babies have been surrendered in Indiana safely as a result of women calling the Safe Haven Baby Box hotline and allowing us to walk alongside them. One of the babies was surrendered in Kosciusko County back in January. We know that education and awareness around the Safe Haven Law and Safe Haven Baby Boxes save lives. Women in crisis need more options, and more locations throughout the state of Indiana and I am determined to make this happen for them."
Right to Life of Gibson County raised funds for the 6-month billboard campaign, but the organization hopes the community can help support it for a longer period. "We are so proud to support this program," said Ann Minnis, president of Right to Life of Gibson County.
"Our hope is that there will be a Baby Box installed at a fire station in Gibson County," said Carmen Jay, who is spearheading Right to Life of Gibson County's involvement in the Baby-Box Project. "Please contact us at 812-768-6768 or [email protected] if you would like to help in any way."