By Megan Erbacher
The Message assistant editor
Rivet High School in Vincennes graduated 22 seniors June 12 at the Highland Woods Community Center, where there was ample space to socially-distance families and students.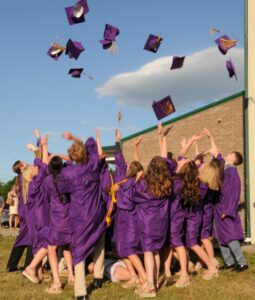 Valedictorians for the Class of 2020 are Grant Freeman and Cedric Schleiss. The Class of 2020 Salutatorian is Caroline Herman, and Rivet's Class of 2020 President is Noah Donovan.
Bishop Joseph M. Siegel attended and delivered a message for the graduating seniors.
Rivet has held commencement at the Highland Woods Community Center in recent years, bu without strict social-distancing or seating limitations. As a result of the COVID-19 outbreak, however, Rivet Principal Janice Vantlin-Jones said administrators worked closely with Knox County Health Officer Dr. Alan Stewart and Superintendent of Catholic Schools Dr. Daryl Hagan to correctly plan the graduation ceremony following CDC guidelines to keep everyone safe. 
Vantlin-Jones said each graduate received 10 tickets to keep the number of guests within CDC guidelines. Google Meet and emails were used to communicate plans with graduates and their parents. 
"Everyone was so understanding with the planning process and the last-minute changes," she said. "We feel so blessed that the graduates were able to come together to end their high school years and celebrate their accomplishments."