The Message assistant editor
Each of us only has one opportunity to make a first impression, and Saint Wendel Catholic School students worked hard to make theirs count with five community business leaders.
When students in grades 5-7 arrived at school on Oct. 10, they were surprised to learn it was S.W.I.R.L. day; Saint Wendel Innovative, Real-World Leaders. This year's first task was Mingle and Appetizers. The goal was to make a good first impression and feel comfortable with the "art of mingling," according to sixth-grade teacher Amanda Cadden.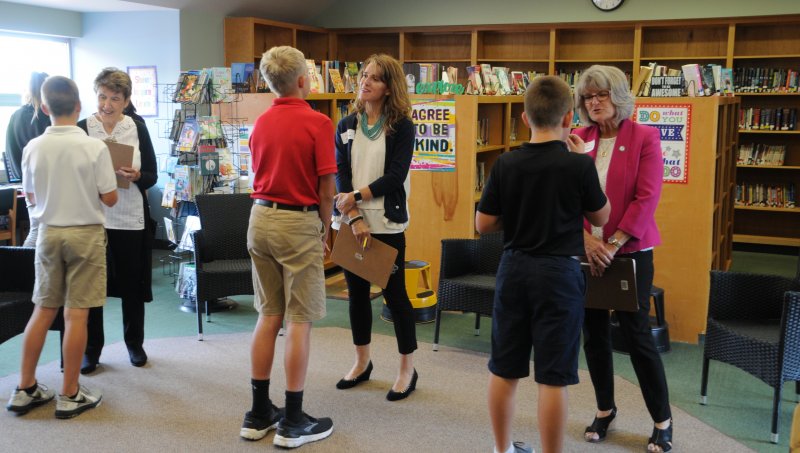 Thirty-three St. Wendel students in grades 5-7 were split into two groups. As students cautiously entered the room, some stopped for appetizers first while a few passed by the meatballs and pizza rolls to immediately practice introductions and conversation with local business professionals.
The professionals who volunteered their time were Nancy Bizal, retired educator; Andrea Greaney, Catholic Schools Coordinator of Student Services and School Information Systems; Janet Johnson, University of Southern Indiana Director of Alumni Relations & Volunteers; Glen Muehlbauer, Koch Enterprises, Inc. Vice President of Human Resources; and Jennifer Slade, Koch Enterprises, Inc. Marketing Director.
The S.W.I.R.L. competition challenges students to work collaboratively to create real-world projects with leaders from the community who share their expertise and experiences, Cadden explained.
Johnson and Bizal spoke to students before the mingling task to offer tips on introduction etiquette and how to make a good first impression.
"Things to remember for the art of mingling are to keep good eye contact and have a firm handshake," Johnson said. "Practice often and remember this because it will help you throughout life."
Conversation topics should be well thought out and interesting, Johnson instructed. She suggested asking questions revolving around a favorite book, or an upcoming movie they're excited to see.
"If you share with me your favorite book and it's one I haven't read yet I may go get it because of your suggestion and enthusiasm about it," Johnson said. "It does not have to be difficult. It may be easier for some and others may be shyer, and that's okay. Think of topics ahead of time, and that helps you prepare."
As for name tags, Bizal advised students to keep those on the right side of their body so it's easily seen by the person they are meeting.
What if there's food at your event?
Johnson and Bizal said it's polite to take just one or two appetizers, and be sure to leave enough space on your plate so you can use it as a resting spot for your cup. It's important to keep your right hand free so you can shake someone's hand, they said.
After students had a chance to mingle, their teachers and the business leaders discussed who excelled in first impressions, and who may need a little more guidance and practice to feel comfortable with it.
Throughout the competition, students are ranked on how well they executed the task. For Mingle and Appetizers, 17 students were designated student-leaders for the next task. Students will compete in three additional tasks, but the specifics are secret until the day of the task when students arrive at school and are surprised by a S.W.I.R.L. day.
S.W.I.R.L. was created four years ago by Cadden and then-fifth-grade teacher Ryan Nowak to encourage students to think outside the box and break out of their comfort zone. Nowak now teaches at Good Shepherd Catholic School, so Cadden and two fellow teachers continued the program: Tom Johnson, fifth-grade teacher; and Mark Furman, 6-8 grade social studies and language arts teacher.
"This competition embraces imagination, creativity and innovation," Cadden said. "(Students) will learn to complete real-world tasks in a timely manner. (They'll) gain experience working alone, with a partner, and in both small and large groups. Leadership skills will be a must as (they) advance to the larger tasks."
Cadden explained the skills kids learn through S.W.I.R.L. will help them later in life when they're applying for clubs, internships and jobs.
"In the real world they'll need academics, but you can be a straight-A student and still not get the job," Cadden said. "It's important for students to also learn skills to help them survive in society."