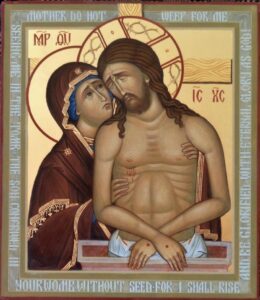 SPECIAL TO THE MESSAGE
Iconographer Marek Czarnecki will present a virtual lecture via livestream beginning at 7 p.m. CDT on March 22, at Saint Meinrad Seminary and School of Theology in St. Meinrad.
His lecture, "The Passion and Resurrection of Our Lord in Iconography," will examine historical icons of the people and events of Christ's passion, concluding with the remarkable prototype of Christ's descent into hell.
The public is welcome to join the lecture at this link: https://www.saintmeinrad.edu/events?item=11830. You can also view the livestream on Saint Meinrad's YouTube channel, Twitter feed or Facebook page, and also on the Saint Meinrad Graduate Theology Facebook page.
An iconographer and artist, Czarnecki teaches and writes about icons out of his liturgical arts studio, Seraphic Restorations, in Meriden, Connecticut. He earned a Bachelor of Fine Arts degree in 1987 from the School of Visual Arts in New York City, and has exhibited his work in many American and European cities.
Czarnecki is coming to Saint Meinrad as part of a grant-funded project to create six icons for a moveable iconostasis for the seminary chapel. An iconostasis is a screen of religious paintings that separates the nave from the sanctuary in a church. During his time at Saint Meinrad as an artist-in-residence, he will give lectures on topics related to his work.
Among the honors Czarnecki has received is the National Council for Polish Culture's Jan de Rosen Artistic Achievement Award. In 2000, he was awarded the Southern New England Traditional Arts Apprenticeship Award, funded by the National Endowment for the Arts, to study under master iconographer Ksenia Pokrovsky. Twice he was awarded the Connecticut Commission on the Arts Painting Fellowship.
His work can be seen at Franciscan University of Steubenville, Ohio; the Cathedral of the Immaculate Conception in Springfield, Illinois; and most recently, at Yale University's St. Thomas More Chapel.
The program is made possible through a Vital Worship Grant from the Calvin Institute of Christian Worship, Grand Rapids, Michigan, with funds provided by Lilly Endowment Inc.
The lecture also will be recorded and made available for later viewing by those who cannot join the live event. For more information, call Mary Jeanne Schumacher at (812) 357-6501 during business hours.