The Message editor
Andy Featherstone was still setting up a SamStrong T-shirt stand near the northeast entrance of Bosse High School's Enlow Field the evening of Sept. 6 when a young man approached with a smile. "I need a shirt!" Andy and wife Tammy, who set up a similar stand on the other side of the stadium, heard that request many times when Reitz Memorial High School hosted North High School in the 7th Annual SamStrong Cancer Awareness Game.
Evansville Mayor Lloyd Winnecke declared the day Childhood Cancer Awareness Day in the city.
SamStrong carries on the final mission of 2012 Reitz Memorial graduate Sam Featherstone to raise awareness of childhood cancer and money for much needed research. Sam, a life-long member of St. John the Baptist Parish in Newburgh, died Jan. 2, 2013, after battling brain cancer for over three years.
This year's event took on additional meaning because the North High School community also is strong this year; Riley Strong! Many North students and fans wore special T-shirts to show their support for North football player Riley Haynes, who is battling lymphoma. He and his parents attended the game; and Tammy Featherstone met and spoke to them.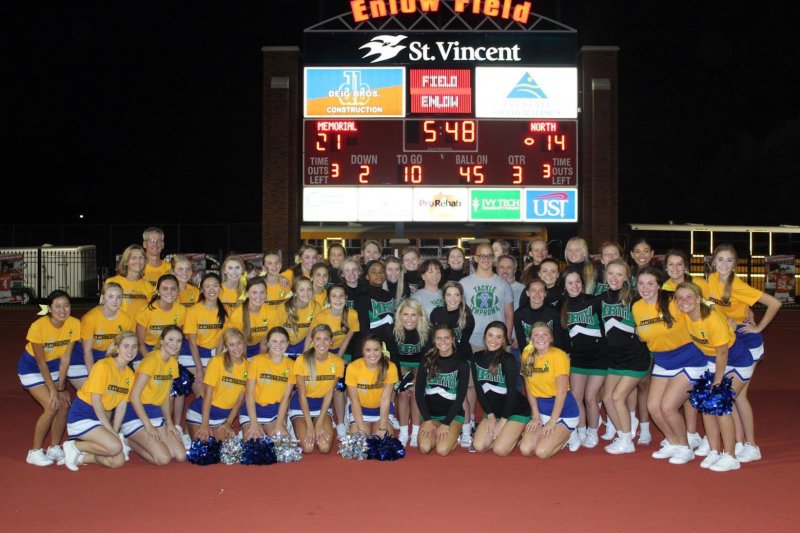 "We love how the Memorial students and cheerleaders included support for Riley Haynes on your banner and in your cheers," the Featherstones wrote in a letter to the Reitz Memorial community shared with The Message. "We got to talk to Riley and his family at halftime and it meant a great deal to them too."
The Reitz Memorial cheerleaders created and hung a banner on the field, in front of the Tigers' student section, that included "Sam and Riley Strong!"
During halftime, both schools' cheerleaders carried donation buckets through the stands, collecting a record $1,562 for pediatric cancer research at St. Jude Children's Hospital. The Featherstones also raised additional funds by selling the iconic gold SamStrong t-shirts.
"We received great support all week from the Reitz Memorial community," Tammy Featherstone said before the game. "We had a great assembly at the school (Sept. 5), and all the team wore gold socks to support SamStrong." Reitz Memorial cheerleaders wore SamStrong T-shirts as their uniform tops for the game.
"We appreciate the warm welcome and kind words that we received this past week from the Memorial students and faculty," Andy and Tammy said in their letter. "Thank you for allowing us to continue to share Sam's story and desire to advance pediatric cancer research."
All of the money raised by SamStrong is used only for pediatric cancer research at St. Jude Children's Research Hospital. If you would like to learn more about Sam, SamStrong, or childhood cancer please visit www.samstrong.org.