By Rev. Tyler R. Tenbarge
Special to The Message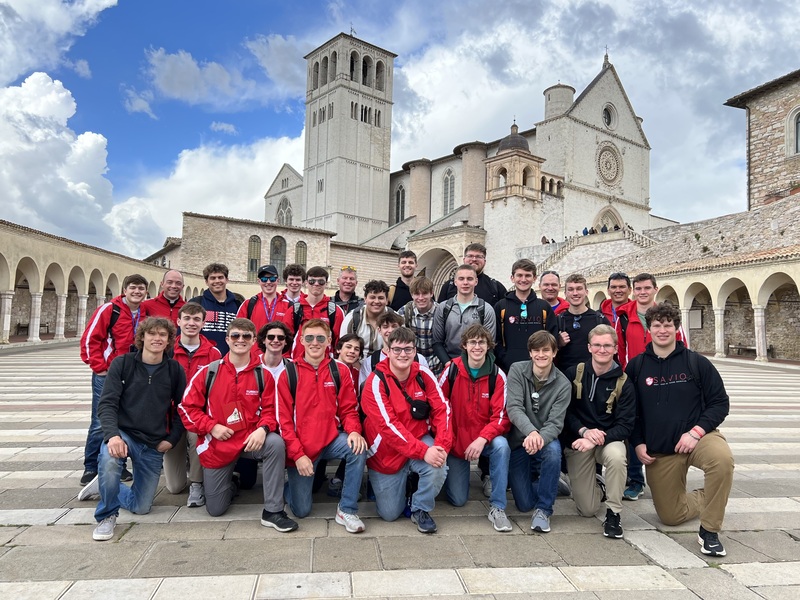 In October 2018, 14 teenage guys from several parishes around the diocese gathered at the then-newly-opened Father Deydier House of Discernment at St. Boniface Parish's  Sacred Heart Church. Some of their dads stood around the edges of the dining room as the first three residents of the House of Discernment shared their stories of discipleship and of discernment. 
"Discipleship and discernment" would become the aim of this new brotherhood.
That Sunday evening was the first "Savio Night" hosted by the Diocese of Evansville Office of Vocations; and from that night onward, the patron saint of this brotherhood, St. Dominic Savio, has been drawing more young men to know Jesus Christ and to live the promises of St. Dominic Savio to pray, feast, befriend and sacrifice.
This past March, some of those original teenage guys visited their patron in Turin, Italy.
In order to qualify for the pilgrimage, each Savio guy had to have attended at least a dozen Savio events by July 2022. These included monthly gatherings at the House or in Jasper, Saturday morning fun-runs, Discernment Retreat weekends, etc. They also had to raise $4,150 to pay for the pilgrimage, $1,650 of which they could earn as scholarships through faith-formation activities like praying daily rosaries with other pilgrims before the trip; reading about the lives of Saints we would be visiting; reading Scripture; listening to discernment podcasts, etc.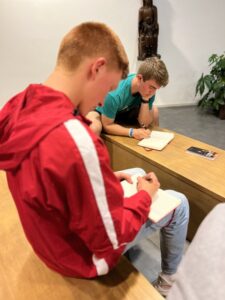 After finishing up fundraising and earning their scholarships, and three in-person meetings for both formation and information, the guys were ready to depart.
Twenty-one high school juniors and seniors piled onto a bus March 23 at Sacred Heart. Bishop Joseph M. Siegel had come to offer his blessing, and many parents and siblings were there to wave goodbye. The boys were accompanied on the 10-day pilgrimage by Father Luke Hassler, pastor of St. Mary Parish in Ireland, and who assists with the growing Savio brotherhood in Dubois County; three former House residents; three Savio dads; and Father Tyler Tenbarge. After landing in Rome March 24, the pilgrims made their way from Rome to Assisi and to Florence before reaching their final destination in Turin, the city where St. Dominic Savio went to school and is buried. They returned home April 2 – Palm Sunday.
Capturing the beauty and power of the pilgrimage for any of the 29 who went to Italy is difficult, let alone to capture it for all of them. That said, there were some highlights.
Within hours of arriving in Rome, the group visited the Catacombs of St. Callixtus where they also had their first Mass together. The pilgrims started their time in Italy where the first Christians started the Church in Rome. 
Sunday morning offered an optional holy hour at the Vatican – which nearly every pilgrim elected to do – and the next hour of the morning was spent playing Ultimate Frisbee before a Papal Audience and blessing at Saint Peter's Basilica. 
At Assisi, these 21 teenage boys lined up to visit the tomb of Blessed Carlo Acutis. Bl. Carlo, who died as a teenager, had his own devotion to St. Dominic Savio. Carlo is the first person on the road to Sainthood to be buried in jeans and tennis shoes. The boys could see, in this Blessed guy, their own potential for holiness.
As blessed as those other places were, Turin was the ultimate goal. 
Nearly 200 years ago, a priest named Don Bosco started reaching out to teenage guys around the city of Turin. He wanted to provide for them – materially and spiritually. His example and mission inspired the Savio brotherhood in our diocese. There, in Turin, the pilgrims visited the tombs of St. Dominic Savio and St. John Bosco; played sports in the piazza where Dominic and his friends would have played; and, on the final day, had a Mass in the same church where St. Dominic attended Mass daily with Fr. Bosco. 
As that final Mass came to a close, Father Luke and Father Tyler left the sanctuary. The Savio guys spontaneously prayed aloud the Promises of St. Dominic Savio, which many of them know by heart, before chanting together the Salve Regina. This tender, unexpected moment brought some of the adults to tears. 
As noted at the beginning of this story, some teenage boys gathered in Evansville in October 2018 to begin a brotherhood under the patronage of St. Dominic Savio. That brotherhood has grown to include more than 200 current and former Savio guys from more than half of the parishes in our diocese. On that last day of the pilgrimage this spring, the Lord Jesus Christ showed us the fruit of what He planted five years ago. 
These boys get it. They have learned who Saint Dominic Savio was, what he believed and how he lived. Now, today, they live their own discipleship and discernment as the patron would have; and for these 21, they do so inspired for having been to meet their model.
Father Tyler serves as Diocese of Evansville Director of Vocations, and House of Discernment Chaplain and Director.