By Dr. Daryl Hagan, Superintendent of Catholic Schools
Special to The Message
On Aug. 5, the first six Diocese of Evansville Catholic schools reopened their doors and welcomed students to a new school year. Today, all 26 Catholic schools are now reopened and the school year is underway.
While some things are different, like wearing masks and excessive handwashing, many things are the same as previous years. One example: while I was briefly visiting St. James Catholic School in Haubstadt, a young student came to the office after a ball hit his tooth and removed the tooth, which was destined to come out. I understood then that school is school – even during a pandemic.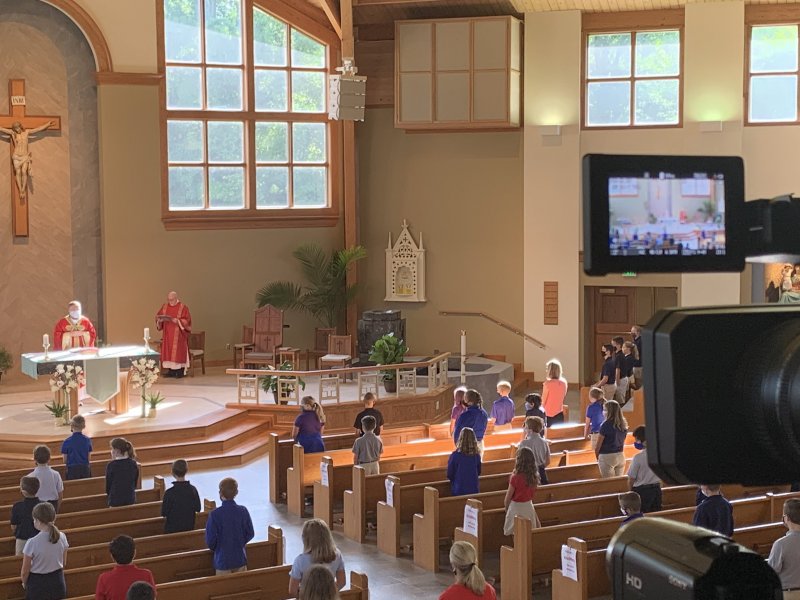 Celebrations of school Masses, while following diocesan protocols, have also started taking place. We are grateful to our pastors and associate pastors for taking on additional Masses and/or providing Mass virtually to the students in their classrooms. Catholic school education places an emphasis on the school as community, and what better way to build community than the celebration of the Eucharist.
As noted in numerous articles published recently in The Message, safety protocols are in place; and all CDC and local health department guidance is being followed. In addition to the intense focus on safety by school employees, schools have introduced students to a variety of school improvements.
St. Joseph Catholic School in Princeton installed a new walking track  

Resurrection Catholic School in Evansville and St. John the Baptist Catholic School in Newburgh completed extensive painting in classrooms and hallways

Mater Dei High School and Reitz Memorial High School renovated offices, conference rooms and teacher spaces 

Washington Catholic Middle/High School provided a new look and environment for their College Prep Course Center 
I encourage you to engage with your school's social media platforms to see the great things happening in Catholic schools.
And finally, please continue to pray for all those affected by the virus. As of Aug. 18, we have confirmed six cases of the COVID-19 virus involving four students and two employees. They are all doing well. 
I urge all families and employees to continue their efforts to self-screen daily and stay home when you have any symptoms.